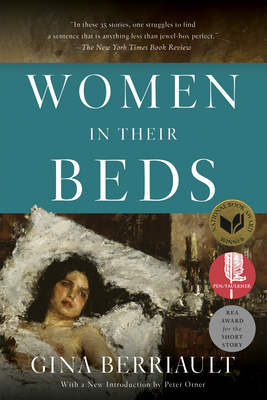 Women In Their Beds
Thirty-Five Stories
Paperback

* Individual store prices may vary.
Description
"In these 35 stories, one struggles to find a sentence that is anything less than jewel–box perfect." —The New York Times Book Review

Gina Berriault is known for the complexity and compassion with which she weaves her characters, and her stories are such models of economy that they seem almost telepathic. In this reissue of her collected stories—twenty years after its first publication—with a new introduction by renowned author and devoted Berriault advocate Peter Orner—we see the deft hand of this well–loved master of the short story at its best.

Berriault employs her vital sensibility—sometimes subtly ironic and sometimes achingly raw—to touch on the inevitability of suffering and the nature of individuality, daring to see into the essence of our predicaments. What moves us? What dictates our behavior? What alters us? Her writing is spare, evanescent, pulsing with life and shimmering with life's strange hope. Her stories illustrate the depth of her emotional understanding.

"Half the women in the world are right now in bed, theirs or somebody else's, whether it's night or day, whether they want to be or not..." With Women in Their Beds, Berriault's prose—moving, honest, and wise—achieves a mastery of the short story form that was in evidence every step of her long career. She was a completely modern writer, blessed with an exquisite sense of the potency of words and the ability to create moments of empathy that are both disturbing and mysteriously amusing.
Praise For Women In Their Beds: Thirty-Five Stories…
Praise for Women in Their Beds

"In these thirty–five stories, one struggles to find a sentence that is anything less than jewel–box perfect." —The New York Times Book Review

"[Berriault's] legacy involves both a piercing sense of observation and a recognition of the whims of fate... Berriault never loses sight of the power of imagination, which, even if only for a moment, can transform our lives." —Los Angeles Times

"While it may seem a lot to ask of some short stories, Women in Their Beds could conceivably vindicate the art... Berriault writes real fiction... She deepens reality, complements it and affords us the bliss of knowing, for a moment, what we cannot know." —The Nation

"Whether focusing on yuppies or drifters, social workers or Indian restaurateurs, heroin addicts or teenage baby–sitters, Berriault writes with great psychological acuity and a compassion that comes always from observation, never from sentimentality. Each story is constructed so gracefully that it's easy to overlook how carefully crafted Berriault's writing is. Her lilting, musical prose adds a sophisticated sheen to the truths she mines." —Publishers Weekly

"Though her language is plain, the complexity of her knowing leads one into mysteries deeper than tears. To discover Berriault is to voyage into uncharted amazements." —Jury for the 1997 Rea Award for the Short Story

"It may seem like overstatement to call Gina Berriault's Women in Their Beds a masterpiece, but that's what it is: An array of narratives that work individually and in conjunction with one another to offer a portrait of the artist as an original, astute in her observations and nuanced in her language and construction, writing according to no rules but her own . . . What Berriault is after is to work the tightrope of the particular, writing stories that take place between the lines . . . For Berriault, the most essential narratives are those that reflect the complexities of living, in which there is hope, yes, although it does not necessarily lead anywhere . . . Berriault makes the story less an instrument of action than of suspension, in which we are caught between what we have and what we will never have, between our obligations and our desires." —David Ulin, Alta

"A wonderful storyteller and a beautiful writer." —Grace Paley, PEN/Malamud Award recipient and author of Fidelity and Enormous Changes at the Last Minute

"Of writers whose work I know—my generation, anybody's generation—Gina Berriault's stories are nonpareil. Just simply wonderful. This book is so, so welcome." —Richard Ford, Pulitzer Prize finalist and author of Let Me Be Frank With You

"Each of Gina Berriault's stories contains a world, beautifully illumined by the light of the life within it. Her writing, line for line, is the most emotionally precise I know and her stories are among the wisest and most heartbreaking in American fiction." —Robert Stone, author of Death of the Black–Haired Girl and Pulitzer Prize finalist for A Flag for Sunrise

"Gina Berriault is one of our best and most neglected writers. These stories are written with compassion and in beautiful prose, which alone is a pleasure." —Andre Dubus, author of In the Bedroom
Counterpoint, 9781619029613, 416pp.
Publication Date: October 10, 2017
About the Author
Gina Berriault was the author of four novels, three earlier short story collections, and several screenplays. One of the most celebrated short story writers in her lifetime, she was the recipient of multiple prestigious awards, including the PEN/Faulkner Award, the National Book Critics Circle Award, the Rea Award for the Short Story, and a Commonwealth Gold Medal for Literature. She died in 1999.

Peter Orner is the author of two short story collections and two novels, including Esther Stories and Love and Shame and Love. His latest book, an essay collection/memoir Am I Alone Here?, was named a finalist for the 2016 National Book Critics Circle Award. Orner teaches at Dartmouth College.
or
Not Currently Available for Direct Purchase