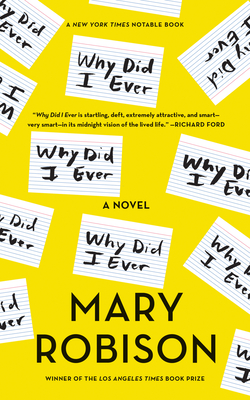 Why Did I Ever
A Novel
Paperback

* Individual store prices may vary.
Description
"Tense, moving, and hilarious . . . [A] dark jewel of a novel." —Francine Prose, O, The Oprah Magazine

Three husbands have left her. I.R.S. agents are whamming on her door. And her beloved cat has gone missing. She's back and forth between Melanie, her secluded Southern town, and L.A., where she has a weakening grasp on her job as a script doctor. Having been sacked by most of the studios and convinced that her dealings with Hollywood have fractured her personality, Money Breton talks to herself nonstop. She glues and hammers and paints every item in her place. She forges loving inscriptions in all her books. Through it all, there is her darling puzzling daughter who lives close by but seems ever beyond reach, and her son, the damaged victim of a violent crime under police protection in New York. While both her children seem to be losing all their battles, Money tries for ways and reasons to keep battling.

Why Did I Ever is a book of piercing intellect and belligerent humor. Since its first publication in 2002 it has had a profound impact, not only on Robison's devoted following, but on the shape of the contemporary novel itself.
Praise For Why Did I Ever: A Novel…
Praise for Why Did I Ever


Winner of the LA Times Book Prize for Fiction
Literary Hub, 1 of the 50 Best Contemporary Novels Under 200 Pages

"Mary Robison, almost as an afterthought, has created a novel that speaks volumes about life in Los Angeles: its stopping and starting, its rushing and emoting, its whimsy and its suspicious, subversive humor..." —Los Angeles Times Book Review

"Tense, moving, and hilarious...[a] dark jewel of a novel." —Francine Prose, O: The Oprah Magazine.

"An epic portrayed in miniature, a cry of cosmic pain in a voice of absurdist humor, an earnest insistence on maternal love in the language of skepticism and family dysfunction. It's an amazing little book: all of Robison's minimalist genius is at work here." —Cathleen Schine, New York Times Book Review

"I wish to hell I could write prose like this...The joy in this novel is for the reader, not the characters. Read it." —David Gates, Newsweek

"The author, who is known as a minimalist, here creates a narrative out of fragmented paragraphs, and the book works best when she strips Money's most explicit fears away. A simple sentence fragment—'Canoe, moon, ukelele'—seems a close to perfect expression of lost beauty." —The New Yorker

"Among writers this is a well–known 'underappreciated' novel. I will not attempt to summarize or articulate what is so brilliant and enlivening about this book. I will only say I would hand it to you, to keep, if I could. The novel's narrator, Money Breton, is living a life that is symptomatic of Hollywood, of L.A., even if she doesn't live there. She is fatigued and full of a particular artistic contempt that no other part of the world could provide her." —Publishers Weekly, 1 of 10 Essential Books of the American West

"Robison's characters are vivid, colorful, and likable, and their story is absorbing. Her humorous presentation does not cheapen the tragic content of her novel but realistically portrays one method of survival. Highly recommended for all public and academic fiction collections." —Library Journal

"Robison's incandescent soliloquy on the absurdity of existence hones fiction to a new and exhilarating measure of sharpness." —Donna Seaman, Booklist

"[A] tour de force of minimalist yet mind–expanding prose... [Robison] makes you think—hard—about life's unavoidable travails, while making it impossible for you to suppress a smile." —Lisa Shea, Elle

"What makes Money memorable, and Mary Robison essential, is that her fundamental bearings are the right ones. Love and compassion are her nature, and they suffuse the page whenever she is talking about her children, even the exasperating daughter." —Richard Dyer, Boston Globe

"Robison's novel . . . is an American classic." —4Columns

"Why Did I Ever is a rarity: an experimental novel that's both engaging and wholly successful." —Time Out New York

"Mary Robison's 2001 novel, Why Did I Ever, is the great lost American fragment novel . . . Why Did I Ever is a book of small moments and little jokes. It's both witty ('"Something tells me I need a nap," I say. "That would be your brain," says Hollis.') and intentionally banal . . . What makes Robison's novel stand out from other fragmented novels, beyond its sardonic voice, is its commitment to the mundane. These fragments and scenes are not all crystallized aphorisms, meaningful moments, or piercing insights (although many are one or more of those). For the most part these are fleeting thoughts and random banalities . . . which is to say, the stuff of life." —BOMB Magazine

"Brevity is the soul of wit, they say, and you would be hard–pressed to find a wittier or briefer novel than this—brief not just in actual length (about 200 pages) but in its internal logic (those 200 pages are comprised of 536 fragments, some only a few words long). Of course it's not really the brevity that makes this novel hilarious, but the voice of the narrator, Money (short for Monica), as she reports on and considers the actually fairly grim events of her life." —Literary Hub

"A funny little book." —Kaitlin Phillips, SSENSE

"Robison... possesses a precocious alertness to the incongruities of life.... [A]t the center is a disciplined and clear–headed novel full of humor and an occasional glimmer of optimism." —Rob Stout, The Charlotte Observer

"I wish to live in [Money's] mind for a while because its perilously funny pratfalls make me want to laugh so badly that I cannot laugh at all." —Molly McQuade, Newsday

"At once heartwrenching and bitterly comical... a stunning work of unbridled honesty." —The Village Voice

"It is a rare novel that can manage to convey the coexistence of tragedy and pleasure so immediately without lessening the reader's enjoyment of either." —The New Leader

"While Money is the definition of sad insanity, Robison's voice is witty and cutting, albeit undeniably weird.... It's more than worth the ride." —Entertainment Weekly

"Hands down, it's the best book I've ever read." —Wesley Minter (Third Place Books), The Thread

"Among so much modern writing these days trying to find a way to explain our situation as plush but dire, free but under surveillance, exhausted but ADD, Robison's fiercely offhand banter cuts through any possible cavity of bullshit, kills its own bloat before it even has time to turn into a scene.... Each passage assumes the feel of veracity of idea over unnecessary execution, as if we are being shown the tools that build a universe rather than the universe itself. There are people, places, time periods; these things each have their personalities, moods; each of the resonances stick out like the sharp part of a long passage that you waited to be paid off by for your effort. Everything is treasure. And by the sheer mass of its weight in such small space, the reader is forced to slow down, to hear the lines again inside her head instead of only on the page, and to parse what those lines might be trying to communicate, if anything." —Blake Butler, Vice

"Hilarious, tragic, masterfully written . . . Robison's fragmented storytelling jumps effortlessly through time and drags you along for the ride. Why Did I Ever contains pain and pleasure. The book tells the joke and is ready to laugh at it, too. It is a friend for life." —Kristen Arnett, The Week

"Why Did I Ever is a unique dream state, an island of its own that doesn't read like any other fragmented narrative . . . On first glance it might seem genre–less, or genre–bending, but it's a novel, through and through. A good one." —Joshua James Amberson, Fiction Advocate

"Mary Robison is, and always has been, a wonderful writer. Why Did I Ever is startling, deft, extremely attractive, and smart—very smart—in its midnight vision of the lived life." —Richard Ford

"Mary Robison has done for the Hollywood culture of our time what Joan Didion did thirty years ago. Spare and ruthless, precisely chiseled, Why Did I Ever is the Play It As It Lays of the twenty–first century." —Madison Smart Bell, author of All Souls' Rising

"Mary Robison's stunned and plunging characters are the truth. This is pure, grim poetry." —Barry Hannah, author of High Lonesome

"Deeply strange, hilarious, heartbreaking, and just stupidly great.... Robison is something approaching brilliant, and Why Did I Ever is hard–bound proof." —Darcy Cosper, author of Wedding Season
Counterpoint, 9781619029644, 224pp.
Publication Date: January 9, 2018
About the Author
Mary Robison was born in Washington, D.C. She is the recipient of a Guggenheim Fellowship, two Pushcart Prizes, an O. Henry Award, the Los Angeles Times Book Prize for Fiction, and the 2018 Arts and Letters Award in Literature. She is the author of four novels and four story collections. She lives in Gainesville, Florida.