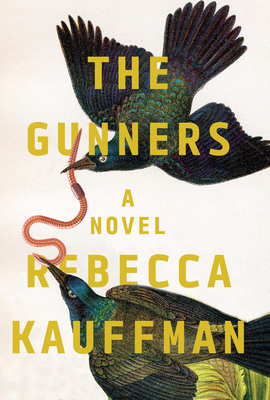 The Gunners (Hardcover)
Counterpoint LLC, 9781619029897, 224pp.
Publication Date: March 20, 2018
Other Editions of This Title:
Paperback (3/12/2019)
* Individual store prices may vary.
Description
"Kauffman has done something remarkable with The Gunners . . . She's made spending time with her characters] not just tolerable but delightful. And she's achieved this not by manufacturing likability, but by so convincingly rendering the affection between them that you accept each character's foibles as readily as they do one another's . . . There's so much generosity and spirit and humor shared by whatever characters are on the page at any given time that I was always happy to accompany them." --The New York Times Book Review
Following her wonderfully received first novel, Another Place You've Never Been, called "mesmerizing," "powerful," and "gorgeous," by critics all over the country, Rebecca Kauffman returns with Mikey Callahan, a thirty-year-old who is suffering from the clouded vision of macular degeneration. He struggles to establish human connections--even his emotional life is a blur.
As the novel begins, he is reconnecting with "The Gunners," his group of childhood friends, after one of their members has committed suicide. Sally had distanced herself from all of them before ending her life, and she died harboring secrets about the group and its individuals. Mikey especially needs to confront dark secrets about his own past and his father. How much of this darkness accounts for the emotional stupor Mikey is suffering from as he reaches his maturity? And can The Gunners, prompted by Sally's death, find their way to a new day? The core of this adventure, made by Mikey, Alice, Lynn, Jimmy, and Sam, becomes a search for the core of truth, friendship, and forgiveness.
A quietly startling, beautiful book, The Gunners engages us with vividly unforgettable characters, and advances Rebecca Kauffman's place as one of the most important young writers of her generation.
"A moving novel . . . Each character comes to terms with their dark past, and uncertain futures--like an intimate hangout session, dashed with suspense and few extra layers of emotional beauty. You'll find yourself thinking of Freaks and Geeks, The Big Chill, and maybe all those friends you've been meaning to text." --Entertainment Weekly, The Must List
About the Author
REBECCA KAUFFMAN is originally from rural northeastern Ohio. She received her B.A. in Classical Violin Performance from the Manhattan School of Music, and several years later, she received her M.F.A. in creative writing from New York University. She currently lives in the Shenandoah Valley of Virginia. She is also the author of Another Place You've Never Been, which was long-listed for the Center for Fiction's First Novel Prize.