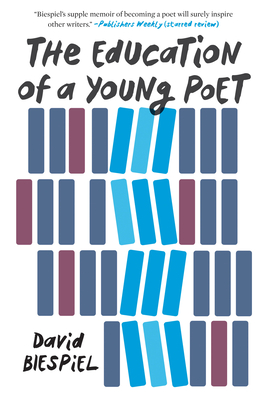 The Education of a Young Poet
Hardcover

* Individual store prices may vary.
Other Editions of This Title:
Paperback (10/9/2018)
Description
"Biespiel's supple memoir of becoming a poet will surely inspire other writers to embrace the bodily character of writing and feel the power and, sometimes, the emptiness of the act of writing poetry." --Publishers Weekly (starred review)
The Education of a Young Poet is David Biespiel's moving account of his awakening to writing and the language that can shape a life. Exploring the original source of his creative impulse--a great-grandfather who traveled alone from Ukraine to America in 1910, eventually settling as a rag peddler in the tiny town of Elma, Iowa--through the generations that followed, Biespiel tracks his childhood in Texas and his university days in the northeast, led along by the "pattern and random bursts that make up a life."
His book offers an intimate recollection of how one person forges a life as a writer during extraordinary times. From the Jewish quarter of Houston in the 1970s to bohemian Boston in the 1980s, from Russia's Pale of Settlement to a farming village in Vermont, Biespiel remains alert to the magic of possibilities--ancestral journeys, hash parties, political rallies, family connections, uncertain loves, the thrill of sex, and lasting friendships. Woven throughout are reflections on the writer's craft coupled with a classic coming-of-age tale that does for Boston in the 1980s what Hemingway's A Moveable Feast did for Paris in the 1920s and Broyard's Kafka Was the Rage did for Greenwich Village in the 1950s.
Restless with curiosity and enthusiasm, The Education of a Young Poet is a singular and universal bildungsroman that movingly demonstrates, "in telling the story of one's coming into consciousness, all languages are more or less the same."
Counterpoint LLC, 9781619029934, 192pp.
Publication Date: October 10, 2017
About the Author
David Biespiel is the author of A Long, High Whistle, a collection of pieces drawn from his long-standing column in The Oregonian about writing and poetry that won the 2016 Oregon Book Award for General Nonfiction. He has also written five books of poetry, most recently Charming Gardeners and The Book of Men and Women, which was named one of the Best Books of the Year by the Poetry Foundation and received the 2011 Oregon Book Award for Poetry, and a book on creativity, Every Writer Has a Thousand Faces. He is the editor of the Everyman's Library edition of Poems of the American South and Long Journey: Contemporary Northwest Poets, which received the Pacific Northwest Booksellers Award. He writes the Poetry Wire column for The Rumpus. Among his honors are a National Endowment for the Arts Fellowship in Literature, a Wallace Stegner Fellowship, and a Lannan Fellowship. He lives in Portland, Oregon, with his family.