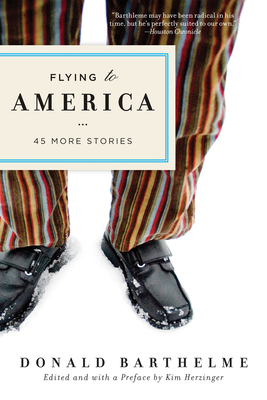 Flying to America (Paperback)
45 More Stories
Counterpoint LLC, 9781619029996, 352pp.
Publication Date: March 13, 2018
Other Editions of This Title:
Paperback (10/1/2008)
Hardcover (10/1/2007)
* Individual store prices may vary.
Description
"Barthleme may have been radical in his time, but he's perfectly suited to our own." --Houston Chronicle
One of the most influential and inventive writers of the twentieth century, Donald Barthelme wrote novels, short stories, parodies, plays, satires, fables, and essays that captured the good, the bad, but most of all the strange of America. With Barthelme, strange may come both in the tale and in the form, but however it appears, Barthelme has tooled the absurd so that is rings true. As observed by Thomas Pynchon (who coined the term Barthelmismo), Barthelme's work conveys something of "the clarity and sweep, the intensity of emotion, the transcendent weirdness of the primary experience."
Flying to America, first published in 2007, presents all of Barthelme's previously unpublished and uncollected short fiction. For both devotees and those new to Barthelme's playful irreverence, erudition, and unmatched imagination, this unprecedented survey offers up a rare and wonderful treat.
About the Author
DONALD BARTHELME was a writer and critic, a National Book Award recipient, a director of PEN and the Authors Guild, a member of the American Academy and the Institute of Arts and Letters, and a founder of the renowned University of Houston Creative Writing Program. He was the author of more than fifteen published books, including City Life, one of Time's Best Books of the Year, and Sixty Stories, which was nominated for the National Book Critics Circle Award, the PEN/Faulkner Award, and the Los Angeles Times Book Prize. Even after his death in 1989, Barthelme's contributions to the world of American letters remain unparalleled. KIM HERZINGER is a critic who writes on minimalism and other contemporary literary phenomena, a Pushcart Prize-winning writer of fiction, and the editor of two other Donald Barthelme collections, Not-Knowing and The Teachings of Don B. He taught at the University of Southern Mississippi and now owns and operates Left Bank Books in New York City.