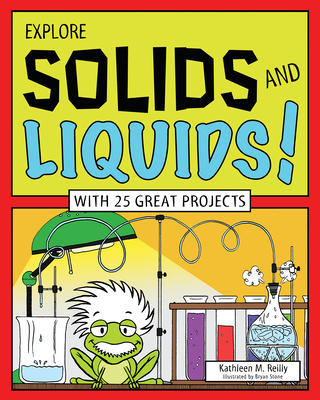 Explore Solids and Liquids!
With 25 Great Projects (Explore Your World)
Hardcover

* Individual store prices may vary.
Other Editions of This Title:
Paperback (8/12/2014)
Description
For a kid, watching a solid turn into a liquid or a liquid into a gas is nothing short of magic. In Explore Solids and Liquids With 25 Great Projects kids experience the wonder of different states of matter. They'll learn what matter is made of, how it can change, and how these interactions really work in our universe. With plenty of activities and projects, young readers gain a solid understanding of the matter they touch, see, feel, and experience every single day. As young readers discover the basic concepts and vocabulary of chemistry, they will experiment with household objects to discover how solids, liquids, and gases occupy space. Kids will dissolve solids into liquids and bring them back again, use salt and pepper to demonstrate water's surface tension, and fly helium-filled balloons to see what happens to molecules at different temperatures. Illustrated with cartoon illustrations and filled with fun facts, Explore Solids and Liquids makes science entertaining and exciting. Explore Solids and Liquids meets common core state standards in language arts for reading informational text and literary nonfiction and is aligned with Next Generation Science Standards. Guided Reading Levels and Lexile measurements indicate grade level and text complexity.

Nomad Press (VT), 9781619301719, 92pp.
Publication Date: August 12, 2014
About the Author
Kathleen Reilly has written several books for Nomad Press, including Planet Earth: 25 Environmental Projects You Can Build Yourself; The Human Body: 25 Fantastic Projects Illuminate How the Body Works; Explore Weather and Climate! with 25 Projects; and Natural Disasters: Investigate Earth's Most Destructive Forces with 25 Projects. She is an award-winning author of several other science books for kids and is a contributor to dozens of publications, including Better Homes & Gardens, Family Circle, Family Fun, National Geographic Kids, and Parents. Kate lives in Raleigh, North Carolina. Bryan Stone is a cartoonist and the illustrator of several books for Nomad Press including Explore Night Science!, Explore Flight!, Explore Rivers and Ponds!, Explore Rocks and Minerals!, and Explore Electricity!. He lives in Hartland, Vermont.
or
Not Currently Available for Direct Purchase