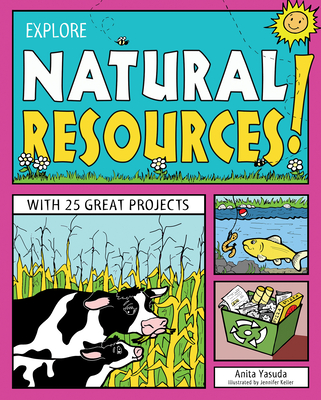 Explore Natural Resources!
With 25 Great Projects (Explore Your World)
Paperback

* Individual store prices may vary.
Description
What are natural resources? And why is it important to prevent natural resources from being wasted? Explore Natural Resources answers these questions. The 25 projects inspire young readers ages 6-9 to have fun while learning why natural resources are important to all living things and how every child can take care of the earth's resources through reducing, reusing, and recycling. Kids will read about national parks and early environmentalists, Earth celebrations, and the science behind renewable and nonrenewable resources. With projects and experiments ranging from making a wind-powered car and creating a solar catcher to calculating their water footprint, children will discover that everything comes from the earth. Projects are easy-to-follow, require little adult supervision, and use commonly found household products, many from the recycling box. Through a mixture of fun facts, trivia, jokes, comics, and hands-on activities, kids will Explore Natural Resources and gain an appreciation of earth's resources, from its vast oceans to its open skies. Explore Natural Resources meets common core state standards in language arts for reading informational text and literary nonfiction and is aligned with Next Generation Science Standards. Guided Reading Levels and Lexile measurements indicate grade level and text complexity.

Praise For Explore Natural Resources!: With 25 Great Projects (Explore Your World)…
Praise for other titles in the series:

Explore Gravity! With 25 Great Projects by Cindy Blobaum
National Science Teachers Association
Are you looking for projects about gravity that are equally interactive as well as instructive? Explore Gravity! is sure to be one of the more popular science books in your class."

Praise for other titles by Anita Yasuda:

Explore the Wild West!
School Library Journal
"Entertaining and informative. This is a useful and engaging introductory overview of the Wild West."

Explore Simple Machines!
Booklist
"Yasuda writes in particularly clear, simple language, and intersperses her explanations with historical notes, jokes, and 25 easy projects or demonstrations constructed from common materials. She also repeatedly urges readers to spot and classify the simple machines that are all around, encourages the use of a science notebook, and closes her discourse with descriptions of what inventors and engineers do."

Explore Water!
School Library Journal
"It's impossible to read this book and not turn off the water while you brush your teeth. Children will come away with obscure facts and broad understandings about this vital resource . . ."

Explore the Solar System!
National Science Teacers Association (NSTA.org)
"The inviting cover of this science book will attract the attention of young readers right from the start. This is a great book to entice young readers to read more and learn a little science along the way. It would make an attractive addition to a school library"
Nomad Press (VT), 9781619302235, 96pp.
Publication Date: May 13, 2014
About the Author
Anita Yasuda is the author of more than 80 books for children and adults, including Explore Flight!, Explore Native American Culture!, and Explore the Wild West! for Nomad Press. She is a member of the Society of Children's Books Writers & Illustrators (SCBWI) and the Canadian Society of Children's Authors, Illustrators Performers (CANSCAIP). Anita lives in Huntington, CA. Jennifer Keller is a writer-illustrator with an MFA in Traditional Illustration from the Academy of Art University in San Francisco. She illustrated Explore Native American Culture! for Nomad Press. Jennifer lives in San Jose, CA.
or
Not Currently Available for Direct Purchase