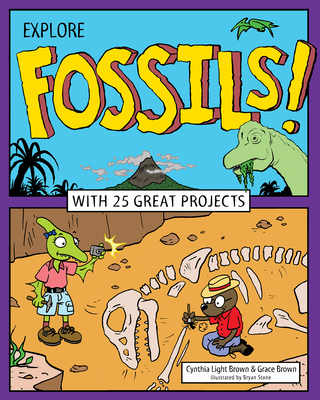 Explore Fossils! (Paperback)
With 25 Great Projects (Explore Your World)
Nomad Press (VT), 9781619303355, 96pp.
Publication Date: January 15, 2016
* Individual store prices may vary.
Description
In Explore Fossils With 25 Great Projects, readers can expand their dinosaur obsessions into learning opportunities that take them beyond Triceratops, Stegosaurus, and even Tyrannosaurus rex to other animals, plants, and microbes that lived long before humans. Explore Fossils introduces young readers to the history of life on Earth as revealed by fossils. Kids learn how fossils form and about the different types of fossils and the world of long ago--its landscape and the plants and animals that lived then. Scientists use radiometric dating to test fossils to discover when they were made, what organisms made them, what those organisms used for energy, what killed them, and a whole lot of other information. All from rocks That's a lot of information stored under our feet. Activities include creating plaster fossils, using popcorn to illustrate radiometric dating, and exploring what might have caused mass extinctions by making a lava flow and simulating an asteroid impact. By studying the past, not only do students meet amazing plants and animals, they are also encouraged to consider their own role in geological time to make thoughtful hypotheses about the future.
About the Author
Cynthia Light Brown is the author of several books for Nomad Press, including Amazing Kitchen Chemistry Projects You Can Build Yourself and Explore Rocks and Minerals!. She has 25 years of experience as an environmental consultant specializing in pollution prevention, toxicology, and using Geographic Information Systems for mapping natural resources and protecting the environment. Cynthia lives in Pittsburgh, PA. Grace Brown is a freshman at Mt. Lebanon High School with a particular interest in math and science. This is her first book. Grace lives in Pittsburgh, PA. Bryan Stone is a cartoonist and the illustrator of several books for Nomad Press including Explore Night Science!, Explore Flight!, Explore Rivers and Ponds!, Explore Rocks and Minerals!, Explore Electricity!, and Explore Money!. He lives in West Fairlee, VT.