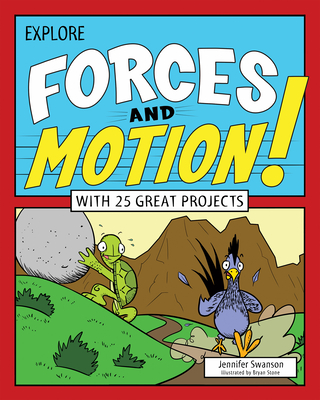 Explore Forces and Motion!
With 25 Great Projects (Explore Your World)
Paperback

* Individual store prices may vary.
Other Editions of This Title:
Hardcover (6/14/2016)
Description
Everything moves Kids run around the playground, cars drive on the road, and balls fly through the air. What causes all this motion? Physics Forces and motion rule the way everything moves through space.
In
Explore Forces and Motion With 25 Great Projects
, readers ages 7 through 10 discover that the push and pull of every object on the planet and in space depends on how a force acts upon it. Things float because of a force called buoyancy, we stick to the ground because of a force called gravity, and we make footprints in sand because of a force called pressure. Physics becomes accessible and interactive through activities such as a experimenting with a water cup drop, building a bridge, and spotting magnetic field lines. Simple machines such as levers, pulleys, and wedges are used as vehicles for discovery and comprehension of the foundational concepts of physical science. Using a theme familiar to everyone?motion?this book captures the imagination and encourages young readers to push, pull, twist, turn, and spin their way to learning about forces and motion.
Nomad Press (VT), 9781619303553, 96pp.
Publication Date: June 14, 2016
About the Author
Jennifer Swanson is an award-winning author of more than 20 nonfiction and fiction books for children. Her books in the How Things Work series by The Child's World were named to the 2012 Booklist's Top 10 Books for Youth: Series Nonfiction. She has received awards from the Pennsylvania TriState Young Adult Review Committee, The Moms Choice Awards, and The Dove Foundation. Jennifer has a B.S. in chemistry from the U.S. Naval Academy and her M.S. Ed. (K-8) in science from Walden University. She lives in Jacksonville, FL. Bryan Stone is a cartoonist and the illustrator of several books for Nomad Press including Explore Night Science!, Explore Flight!, Explore Rivers and Ponds!, Explore Rocks and Minerals!, Explore Electricity!, and most recently Explore Honey Bees!. He lives in West Fairlee, VT.