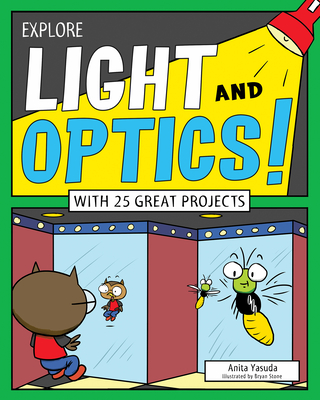 Explore Light and Optics!
With 25 Great Projects (Explore Your World)
Hardcover

* Individual store prices may vary.
Other Editions of This Title:
Paperback (8/9/2016)
Paperback, Vietnamese (10/1/2019)
Description
Imagine a world without light. What would it be like? Dark, cold, and lifeless In Explore Light and Optics With 25 Great Projects, readers ages 7 through 10 find out why light is so important to our world. We use light to communicate. Because of light, there are natural phenomena such as rainbows and the auroras. And it's light that provides living things with the energy they need to exist.
In
Explore Light and Optics
, readers learn how light travels, how the eye works, and why we can see objects. They read about optical inventions that changed the world, including microscopes, telescopes, and cameras. Kids are introduced to modern inventions such as lasers, solar planes, and the hundreds of thousands of miles of fiber optics that make it possible to transmit data all over the world. Through projects ranging from making a spectroscope and concocting invisible ink to creating a periscope and experimenting with lenses, children discover how light can be bent, bounced, and broken. Fun facts, jokes, cartoon illustrations and links to online primary sources spark an interest in the fascinating role light plays in our lives from the sun shining overhead to the cellphone in our back pocket.
Nomad Press (VT), 9781619303768, 96pp.
Publication Date: August 9, 2016
About the Author
Anita Yasuda is the author of more than 100 books for children and adults, including Explore Simple Machines!, Explore Native American Cultures!, and Astronomy: Cool Women in Space for Nomad Press. She is a member of the Society of Children's Books Writers & Illustrators (SCBWI) and the Canadian Society of Children's Authors, Illustrators and Performers (CANSCAIP). Anita lives in Huntington Beach, California. Bryan Stone is a cartoonist and the illustrator of several books for Nomad Press including Explore Night Science!, Explore Flight!, Explore Rivers and Ponds!, Explore Rocks and Minerals!, Explore Electricity!, and Explore Honey Bees!. He lives in West Fairlee, Vermont.