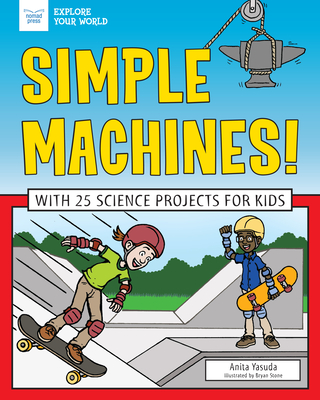 Simple Machines!
With 25 Science Projects for Kids (Explore Your World)
Paperback

* Individual store prices may vary.
Other Editions of This Title:
Hardcover (8/6/2019)
Description
Does your coat have a zipper? Did you eat breakfast with a fork? You're using simple machines
From butter knives to seesaws, rolling pins to catapults, we are surrounded by simple machines Simple Machines With 25 Science Projects for Kids astounds readers with the ingenuity they already possess and inspires them to look differently at the objects they use every day.
What do a fork and an axe have in common? How do pulleys get a flag up a flagpole? Simple Machines introduces kids to the concept of mechanical advantage and harnesses kid-power by inviting them to build machines of their own design. This book also opens eyes and minds to the diversity of machines in their lives, and sparks the imagination with challenge, humor, and achievable projects.
Simple Machines dedicates a chapter to each of the six simple machines that were identified centuries ago: levers, inclined planes, pulleys, screws, wedges, and wheels and axles. Kids develop analytical skills as they figure out where force is applied and what kind of work it generates. Essential questions, fascinating facts, and links to online primary sources make student-led learning fun and productive Through science-minded STEM projects and investigative engineering experiments, kids develop critical and creative thinking skills about the roles simple machines play in our world and their importance to human civilization.
Simple Machines is part of a set of two Explore Technology books that introduce young digital natives to the history, science, and engineering of the tech world in which we live, using hands-on STEM activities, essential questions, links to online primary sources and real-life connections. The other title in this series is Robotics
Nomad Press books integrate content with participation. Common Core State Standards, the Next Generation Science Standards, and STEM Education all place project-based learning as key building blocks in education. Combining content with inquiry-based projects stimulates learning and makes it active and alive. Nomad's unique approach simultaneously grounds kids in factual knowledge while allowing them the space to be curious, creative, and critical thinkers.

Nomad Press (VT), 9781619308176, 96pp.
Publication Date: August 6, 2019
About the Author
Anita Yasuda is the author of more than 100 books for children. In 2013, she won the Honor Book award, Science for grades K-12, Society of School Librarians International for Explore Flight! With 25 Great Projects and in 2012, she won the gold Moonbeam award for her book Explore The Wild West! With 25 Great Activities. She is a member of the Society of Children's Books Writers & Illustrators (SCBWI). She lives with her family in Huntington Beach, California. Bryan Stone is a freelance cartoonist and illustrator who lives in West Fairlee, Vermont, with his wife and daughters Bryan is an alum of The Center for Cartoon Studies. He has illustrated nearly 20 books for Nomad Press and done illustration work for clients such as Dartmouth College, Docomo USA, and many more. His comics work has appeared in numerous anthologies and newspapers.