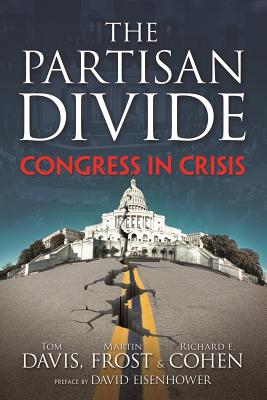 The Partisan Divide (Hardcover)
Congress in Crisis
Fastpencil Inc, 9781619331280, 352pp.
Publication Date: December 19, 2014
* Individual store prices may vary.
Description
"Martin Frost and Tom Davis are uniquely qualified to examine how constant conflict in Washington keeps too many good things from happening. "The Partisan Divide: Congress in Crisis "is a smart book that asks the right questions and offers some intriguing solutions." -- President Bill Clinton
During their 40 years in Congress, Martin Frost and Tom Davis were the field generals for their respective parties, each serving two terms as chair of the Democratic and Republican House campaign committees. Now they have joined forces -- along with columnist Richard Cohen -- in an effort to save Congress from itself.
According to the authors, Congress is incapable of reforming itself without a good kick in the seat from the American public. Frost and Davis, with great insight and skill, along with a wealth of anecdotes and photos, dissect the causes of legislative gridlock and offer a common sense, bipartisan plan for making our Congress function again.
The Preface by Pulitzer Prize finalist David Eisenhower sets the stage for this powerful behind-the-scenes narrative that uncovers the past road to the present political gridlock -- and then offers thought-provoking insights and possibilities for the way out.
A wide array of Republicans, Democrats, former presidents, and congressional colleagues, as well as many of today's most highly respected news correspondents and analysts, have come together in broad, bi-partisan, consensus support for this book and its message.
"The Partisan Divide: Congress in Crisis" is a fascinating "must-read" for the historically and politically curious -- as well as every citizen of the United States
"As bipartisan progress becomes ever scarcer in Washington, Frost and Davis have come together to present thought-provoking ideas and insights from four decades of collective experience in Congress.  In their powerful insiders' account of the road into political gridlock, readers will find both the full extent of the problem and new possibilities for a way out." -- Nancy Pelosi, Democratic Leader and 60th Speaker of the House
"This book by two veteran politicians -- one a Democrat and one a Republican -- shows just how broken our political system is and how difficult it is going to be to get it back on track." -- Bob Schieffer, Moderator of "Face the Nation" and Chief Washington Correspondent CBS News
About the Author
Tom Davis served in Congress from 1994 to 2008 representing Virginia's 11th district. During that time, he served as House GOP campaign chairman for two cycles (2000 and 2002), and chairman of the House Committee on Government Reform and Oversight before retiring, undefeated in 2008. He is a graduate of Amherst College and the University of Virginia Law School. Mr. Davis currently serves as a Director at Deloitte LLP and resides in Vienna, Virginia. He is also a co-founder of "No Labels."Martin Frost served 26 years in Congress representing the Dallas-Ft. Worth area in North Texas. During that time he served four years as chair of the Democratic Congressional Campaign Committee and four years as Chair of the House Democratic Caucus. He has undergraduate degrees in journalism and history from the University of Missouri and a law degree from the Georgetown University Law Center. Mr. Frost is a senior partner in the Washington office of the Polsinelli law firm and resides in Alexandria, Virginia. Richard Cohen has written about Congress for "National Journal," "Politico" and "Congressional Quarterly." He is the author of several books, including "Washington at Work: Back Rooms and Clean Air, "a case study of the 1990 Clean Air Act, and "Rostenkowski: The Pursuit of Power and the End of the Old Politics. "He has been co-author of "The Almanac of American Politics. "Mr. Cohen received his undergraduate degree from Brown University and a law degree from Georgetown University Law Center. Mr. Cohen resides in McLean, Virginia. David Eisenhower, grandson of general and President Dwight D. Eisenhower, is a historian and the Director of the Institute for Public Service at the Annenberg Public Policy Center. He serves as a senior research fellow at the University of Pennsylvania's Annenberg School for Communication and is a fellow in the International Relations Department at the University. Mr. Eisenhower is the author of "Eisenhower: At War," which was a finalist for the Pulitzer Prize in history in 1986. He is the co-author with wife, Julie Nixon Eisenhower, of "Going Home to Glory."
Coverage from NPR
or
Not Currently Available for Direct Purchase