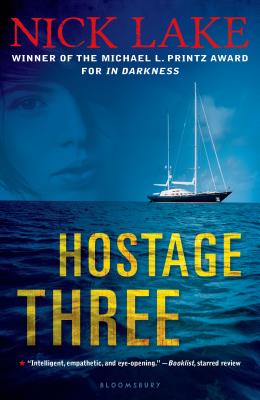 Hostage Three (Hardcover)
Bloomsbury USA Childrens, 9781619631236, 384pp.
Publication Date: November 12, 2013
Other Editions of This Title:
Paperback (8/26/2014)
* Individual store prices may vary.
Description
From the author of the Michael L. Printz award–winning novel In Darkness comes a critically-acclaimed, fast-paced thriller that's as dangerous as the seas on which it's set.
The last thing Amy planned to do this summer was sail around the world trapped on a yacht with her father and her stepmother. Really, all she wanted was to fast-forward to October when she'll turn
eighteen and take control of her own life.
Aboard the Daisy May, Amy spends time sunbathing, dolphin watching and forgetting the past as everything floats by . . . until one day in the Gulf of Aden another boat appears. A boat with guns and pirates – the kind that kill.
Immediately, the pirates seize the boat and its human cargo. Hostage One is Amy's father – the most valuable. Hostage Two: her stepmother. And Hostage Three is Amy, who can't believe what's happening. As the ransom brokering plays out, Amy finds herself becoming less afraid, and even
stranger still, drawn to one of her captors, a teenage boy who wants desperately to be more than who he has become. Suddenly it becomes brutally clear that the price of life and its value are two very different things . . .
About the Author
Nick Lake was born in Britain but grew up in Luxembourg, where his father worked for the European Parliament. Nick works in publishing by day and writes in every spare moment he can find. In 2012, his powerful and moving novel In Darkness, about the Haitian earthquake, was published for adults and older teenagers, receiving huge acclaim. Hostage Three is his very different but equally powerful new novel for teenagers.
Nick lives near Oxford with his wife and family. His long commute to work gives his imagination time to explore places he's never visited.
Praise For Hostage Three…
"* Intelligent, empathetic, and eye-opening." —Booklist, starred review, on Hostage Three
"* Perceptive and harrowing. . . . An inventive narrative construction . . . plays on the highly unstable situation of this utterly compelling read." —Publishers Weekly, starred review, on Hostage Three
"* Vivid and poignant. . . . The narrative twist is brilliant, taking readers on an emotional ride to the very last page." —School Library Journal, starred review, on Hostage Three
"* This double-helix-of-a-story explores the nature of freedom, humanity, survival and hope. A dark journey well worth taking-engrossing, disturbing, illuminating." —Kirkus reviews, starred review, on IN DARKNESS
"* A startling but successful feat of literary imagination. . . . Powerful and moving." —PW, starred review, on IN DARKNESS
"A likely eye-opener for teenage readers. . . . In Darkness works on multiple levels by blurring realities--telescoping across time, between dreams and waking, and . . . between the depiction of Haiti by the artist and Haiti itself. This is what makes the novel so gripping." —The New York Times, on IN DARKNESS
"Remarkable. . . . Lake's elegant, restrained prose and distinct characters will reward adults and older teenagers able to brave a story with strong language, harrowing scenes of brutality and an almost painful stab of joy at the end." —Wall Street Journal, on IN DARKNESS
"A bold storytelling move ripe for reader discussion. . . . Provocative, daring, and sure to be polarizing. Lake does not shy from the graphic depiction of life in past or present Haiti. . . . Such grittiness elevates his story above and beyond more typical historical fiction and gives the events an edge not found in classroom social studies lessons. . . . Readers are sure to have a hard time looking away." —VOYA, on IN DARKNESS
or
Not Currently Available for Direct Purchase