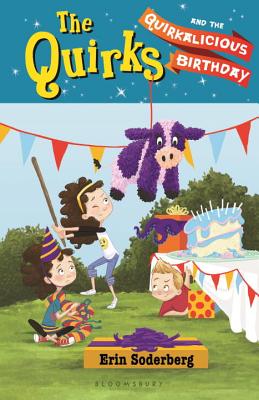 The Quirks and the Quirkalicious Birthday (Hardcover)
Bloomsbury USA Childrens, 9781619633704, 208pp.
Publication Date: January 13, 2015
* Individual store prices may vary.
Description
Things get a little (okay, a lot) Quirky as twins Molly and Penelope prepare to turn ten. It all starts with Grandpa Quill's annual birthday scavenger hunt, when Gramps hides mini-presents for the girls to find leading up to a SUPER-special big present. This year they're hoping for another family pet. But the girls can't agree on what kind of pet, and soon they're fighting non-stop. It's always been The Quirks vs. The World . . . but what happens when it's a Quirk vs. a Quirk? Will the girls learn how to get along in time for a truly magical birthday?
With its quirky packaging, b&w illustrations throughout, and funny and heartfelt moments, this book is sure to satisfy The Quirks's growing fan base.
About the Author
ERIN SODERBERG has written a Candy Apple for Scholastic, some Romantic Comedies for Pulse, and an upcoming edgy YA stand alone. She's also a brand-manager for Nickelodeon. Erin lives in Minneapolis, Minnesota.
Praise For The Quirks and the Quirkalicious Birthday…
"This birthday-anxiety story is made fresh by both the twins' dynamics and the riddles." —Kirkus Reviews
"Molly and Penelope's desire to fit in rings true, especially in their fourth-grade class. The story develops easily and quickly as readers get to know the characters. Black-and-white illustrations scattered throughout lend comical flair." —School Library Journal on The Quirks in Circus Quirkus
"Like the characters in Ingrid Law's Savvy and Scumble, [the Quirks] struggle to maintain and control the things that make them special while still leading meaningful lives in the wider world. Light's illustrations add depth and energy to the characters, effectively moving readers through the story. This title combines gentle family drama, humor, and magic, resulting in a satisfying read." —School Library Journal on The Quirks: Welcome to Normal
"The Quirks provides quick character sketches, gentle but funny problems, and illustrations that capture the humor and energy in the family's adventures. . . . Readers will hope the next adventure appears soon." —Booklist on The Quirks: Welcome to Normal
"This book is super-fun, super-cute and super-hilarious. I wish I were a Quirk!" —Sarah Mlynowski, best-selling author of the Whatever After and Magic in Manhattan series, on The Quirks: Welcome to Normal
"Really creative, full of heart, and not sickly sweet. I have been waiting to find a book for 3rd graders that doesn't give me cavities, but will also be adored by the students. I think this is the one!" —Kiss the Book Blog on The Quirks: Welcome to Normal
"I sped through this book--I couldn't put it down! I'm anxiously awaiting the next book in this great new series." —Jack & Jill Read (US Kids Magazine) on The Quirks: Welcome to Normal
"A fun, inventive story that inspires laughter and reflection on one's definition of normal." —Library Media Connection on The Quirks: Welcome to Normal