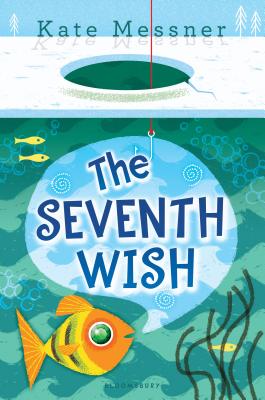 The Seventh Wish (Hardcover)
Bloomsbury U.S.A. Children's Books, 9781619633766, 240pp.
Publication Date: June 7, 2016
* Individual store prices may vary.
Description
Charlie feels like she's always coming in last. From her Mom's new job to her sister's life away at college, everything else always seems to be more important than Charlie's upcoming dance competition or science project. Unsure of how to get her family's attention, Charlie comes across the surprise of her life one day while ice-fishing . . . in the form of a floppy, scaly fish offering to grant her a wish in exchange for its freedom. Charlie can't believe her luck until she realizes that this fish has a funny way of granting wishes, despite her best intentions. But when her family faces a challenge bigger than any they've ever experienced, Charlie wonders if some things might be too important to risk on a wish.
With the same warmth and fun that readers loved in All the Answers, Kate Messner weaves fantasy into the ordinary, giving every reader the opportunity to experience a little magic.
About the Author
Kate Messner is a former middle-school English teacher and the author of All the Answers, E. B. White Read Aloud Award-winner The Brilliant Fall of Gianna Z., Sugar and Ice, Eye of the Storm, Capture the Flag, the Marty McGuire chapter book series, the Rangers in Time series, and several picture books. She lives on Lake Champlain with her husband and two kids. When she's not reading or writing, she loves hiking, kayaking, biking, and watching thunderstorms over the lake. www.katemessner.com@KateMessner.