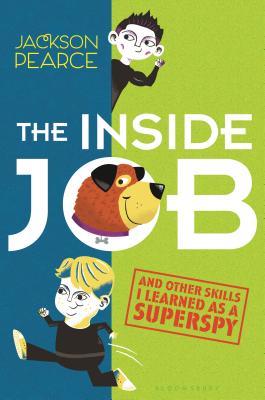 The Inside Job (Hardcover)
(And Other Skills I Learned as a Superspy)
Bloomsbury USA Childrens, 9781619634206, 272pp.
Publication Date: July 12, 2016
* Individual store prices may vary.
Description
Hale, who turned double-agent against the corrupt spy organization he was raised in, knows his super-spy parents can't come home until the Sub Rosa Society is neutralized--and that he and his friends are all that's standing between SRS and their worldwide crimes. So Hale wants to hit the bad guys where it hurts: their bank account.
Hale and his allies all travel to Switzerland and discover that this won't be a smash-and-grab job like they expected. SRS doesn't have any actual money that can be taken--it's all hidden in secret digital accounts. Oh, and some super heavy gold bars. To take them down, Hale's crew will have to undo SRS's crimes and get to the inside man at the bank, all while artfully evading SRS's notice.
There's plenty of action, a big fluffy show dog, a nefarious clown, and, as readers expect from this series, all kinds of comedic, high-stakes adventure.
About the Author
Jackson Pearce lives in Atlanta, Georgia, where she graduated from the University of Georgia with a degree in English and a minor in Philosophy. She began writing when she got angry that the school librarian couldn't tell her of a book that contained a smart girl, horses, baby animals, and magic. Her solution was to write the book herself when she was twelve.
Jackson is the author of a series of teen retold fairy-tales, including Sisters Red, Sweetly, Fathomless, and Cold Spell, as well as two stand-alones, As You Wish and Purity. As J. Nelle Patrick, she is the author of Tsarina. In addition to The Doublecross and The Inside Job, her middle grade novels include Pip Bartlett's Guide to Magical Creatures, co-written with Maggie Stiefvater.
www.jacksonpearce.com
@JacksonPearce
Praise For The Inside Job: (And Other Skills I Learned as a Superspy)…
"Like the first book, this is a funny, smart spy adventure with strong characters and clever twists . . . This strong, satisfying sequel will leave middle grade fans eager to read more about Hale's adventures." —School Library Journal
"Hale is a quick-thinking and daring underdog, with an impressive arsenal of skills and spy tricks. The book ends on a satisfying note but leaves plenty of room for future sequels. Fast-paced, funny, and full of unexpected plot twists, this spy novel will easily appeal to middle grade adventure fans." —School Library Journal on THE DOUBLECROSS
"Exciting missions, cool gadgets, and plenty of intrigue make this a fun read from the get-go. The icing on the cake is Hale, whose self-deprecating manner, kind heart, and intelligence will steal hearts as well as the show. International espionage plus wacky high jinks equals plot-twisting fun." —Kirkus Reviews on THE DOUBLECROSS
"An entertaining and memorable story. . . Pearce sets the stage for what could easily become a favorite series." —Publishers Weekly on THE DOUBLECROSS
"A zany. . . clever protagonist. Oddball characters with plenty of heart and nifty gadgets will draw in readers who appreciate humorous underdog stories." —Booklist on THE DOUBLECROSS
"A hilarious and heartfelt story." —Jennifer Echols, award-winning author of ENDLESS SUMMER and LOVE STORY, on PURITY
"Fairy tales take a modern twist with this action-packed story of strong sisters, deadly wolves, and risky love." —Melissa Marr, New York Times bestselling author, on SISTERS RED