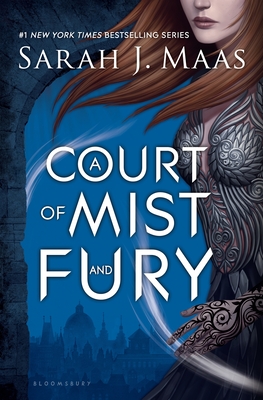 A Court of Mist and Fury (A Court of Thorns and Roses) (Hardcover)
Bloomsbury USA Childrens, 9781619634466, 640pp.
Publication Date: May 3, 2016
Other Editions of This Title:
Paperback (5/2/2017)
Prebound (5/2/2017)
Paperback, Spanish (11/21/2017)
* Individual store prices may vary.
Description
The # 1 New York Times bestselling sequel to Sarah J. Maas' spellbinding A Court of Thorns and Roses.
Feyre survived Amarantha's clutches to return to the Spring Court--but at a steep cost. Though she now has the powers of the High Fae, her heart remains human, and it can't forget the terrible deeds she performed to save Tamlin's people.
Nor has Feyre forgotten her bargain with Rhysand, High Lord of the feared Night Court. As Feyre navigates its dark web of politics, passion, and dazzling power, a greater evil looms--and she might be key to stopping it. But only if she can harness her harrowing gifts, heal her fractured soul, and decide how she wishes to shape her future--and the future of a world cleaved in two.
With more than a million copies sold of her beloved Throne of Glass series, Sarah J. Maas's masterful storytelling brings this second book in her seductive and action-packed series to new heights.
About the Author
Throne of Glass was Sarah J. Maas's first full-length novel to be published, though she already had a large online fan base, many of whom discovered this fantasy world in its first incarnation on www.fictionpress.com, written when Sarah was just sixteen. Throne of Glass was shortlisted for the Waterstones Children's Teen Book of the Year and has sold in thirteen languages. Sarah lives in Southern California, USA.
You can find out more about Sarah and Throne of Glass at www.sjmaas.livejournal.com.
Praise For A Court of Mist and Fury (A Court of Thorns and Roses)…
"The world is exquisitely crafted, the large cast of secondary characters fleshed out, the action intense, and the twist ending surprising, heartrending, and, as always, sure to guarantee readers' return . . . When has Maas not churned out a best-seller? Her ongoing Throne of Glass series is enormously popular, and this sequel in an equally devoured new series is primed for similar success." - Booklist
"The erotically charged lead-up to the romantic storyline's climaxes (pun intended) adds stakes to the cliffhanger. Hits the spot for fans of dark, lush, sexy fantasy." - Kirkus Reviews
"Maas lets the relationship dynamics change organically, and her talent for creating chemistry between her characters (including some fiery sexual encounters) is as strong as ever. Maas gives Feyre the space to regain her agency and prove herself the equal of any High Lord, resulting in an immersive, satisfying read." - Publishers Weekly
"A gorgeously written tale as lush and romantic as it is ferocious. Absolutely spellbinding." - Alexandra Bracken, NEW YORK TIMES bestselling author, on A COURT OF THORNS AND ROSES
"Simply dazzles. . . . the clamor for a sequel will be deafening. . . . Maas' Throne of Glass series has been a smash hit . . . this new series is primed to follow in its footsteps." - starred review, Booklist on A COURT OF THORNS AND ROSES
"Sarah J. Maas delivers what may be her best work to date. . . . Enchanting, spellbinding and imaginative. . . . The world-building is stellar, as only Maas can imagine it." - USA Today on A COURT OF THORNS AND ROSES
"Suspense, romance, intrigue and action. This is not a book to be missed!" - The Huffington Post on A COURT OF THORNS AND ROSES
"The sexual tension and deadly action are well-supported by Maas' expertly drawn, multidimensional characters and their nuanced interpersonal dynamics. . . . Sexy and romantic." - Kirkus Reviews on A COURT OF THORNS AND ROSES
"A dazzling world, complex characters and sizzling romance." - Top Pick, RT Book Reviews on A COURT OF THORNS AND ROSES
"A well-developed world. . . . [Feyre's] grit and boundless loyalty demand that her foes--and readers--sit up and pay attention." - Publishers Weekly on A COURT OF THORNS AND ROSES