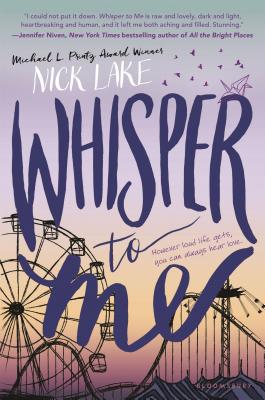 Whisper to Me (Hardcover)
Bloomsbury USA Childrens, 9781619634565, 544pp.
Publication Date: May 3, 2016
Other Editions of This Title:
Paperback (6/27/2017)
* Individual store prices may vary.
Description
A remarkable story of strange beauty and self-discovery from Printz Award winner Nick Lake.
Cassie is writing a letter to the boy whose heart she broke. She's trying to explain why. Why she pushed him away. Why her father got so angry when he saw them together. Why she disappears some nights. Why she won't let herself remember what happened that long-ago night on the boardwalk. Why she fell apart so completely.
Desperate for his forgiveness, she's telling the whole story of the summer she nearly lost herself. She's hoping that love-love for your family, love for that person who makes your heart beat faster, and love for yourself-can save both of them after all.
Awards for There Will Be Lies
A Boston Globe Best YA Book of 2015
A Texas TAYSHAS Pick
About the Author
Nick Lake was born in Britain but grew up in Luxembourg, where his father worked for the European Parliament. Nick works in publishing by day and writes in every spare moment he can find. In 2012, his powerful and moving novel In Darkness, about the Haitian earthquake, was published for adults and older teenagers, receiving huge acclaim. Hostage Three is his very different but equally powerful new novel for teenagers.
Nick lives near Oxford with his wife and family. His long commute to work gives his imagination time to explore places he's never visited.
Praise For Whisper to Me…
"I could not put it down. Whisper to Me is raw and lovely, dark and light, heartbreaking and human, and it left me both aching and filled. Stunning." - Jennifer Niven, NEW YORK TIMES bestselling author of ALL THE BRIGHT PLACES
"A genuine narrative exploring mental health issues, vulnerability, and how love can help bridge the two. A recommended purchase for all YA collections." - starred review, School Library Journal
"Cassie's charming, self-deprecating narrative and the insight into her mental health are engrossing and moving." - Booklist
"Part murder mystery, part love story, with plenty of drama for Lake's many fans." - Kirkus Reviews
"Cassie is a deeply sympathetic figure . . . Part romance, part crime story, part meditation on mental illness." - Publishers Weekly
"Will haunt readers' memories when they walk along the beaches and piers this summer." - VOYA
"Cassie's story is completely absorbing . . . A fascinating exploration of the possible residues of trauma and the painstaking work of recovery." - BCCB
"Perplexing and disorienting, full of the rich language and heady epiphanies readers have come to expect from the Printz-award winning author." - starred review, School Library Journal on THERE WILL BE LIES
"Impressively unpredictable--a motley mix of taut thriller, transportive fantasy, and poignant coming-of-age . . . Shelby narrates the surreal implosion of her life in an indignant, funny voice, à la Judy Blume." - Entertainment Weekly on THERE WILL BE LIES
"A rare joy to behold." - Booklist on THERE WILL BE LIES
"Suspenseful, complicated . . . A fine exploration of the power of story itself." - Kirkus Reviews on THERE WILL BE LIES
"Lake returns to the mix of reality and fantasy he used to great success in his Printz-winning In Darkness . . . Shelby is highly sympathetic." - Publishers Weekly on THERE WILL BE LIES
"A twisty drama suffused with elements of folklore." - Wall Street Journal on THERE WILL BE LIES