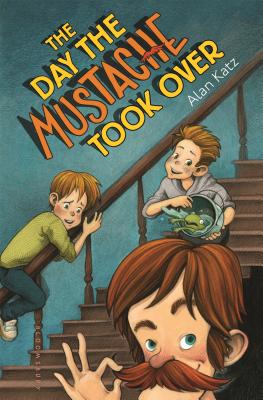 The Day the Mustache Took Over (The Mustache Series #1) (Hardcover)
Bloomsbury USA Childrens, 9781619635586, 208pp.
Publication Date: September 1, 2015
* Individual store prices may vary.
Description
David and Nathan are twin brothers who just can't seem to keep a babysitter around for long-they've had 347 after all. Or is it 734?
Either way . . . there's got to be someone who can handle these two. Enter: Martin Healey Discount, or "Murray Poopins" as the boys dub him. When they first meet, Martin is all business-well, business and a very bushy mustache. The boys must brush their teeth and clean their rooms and there is absolutely no television allowed. But is there more to Martin than meets the eye? When David and Nathan's parents leave, the twins aren't the only ones acting like children . . .
From the hilarious mind of Alan Katz comes a brand-new series with a cast of characters that will tickle more than your upper lip.
About the Author
As a print and television writer, Alan Katz has majored in silliness for more than 30 years. He's written for a whole bunch of Emmy-nominated TV shows (five years worth of parody songs and other funny stuff for The Rosie O'Donnell Show), animated series like Taz-Mania, Disney's Raw Toonage and Goof Troop, several editions of the Grammy Awards and Tony Awards, Kids Are People Too, a slew of Nickelodeon projects including Whoopi's Littleburg, network specials, game shows, and articles for publications including the New York Times and the New York Daily News. He's also created hundreds of comic books, trading cards, web videos, and other special projects for kids and their parents. He lives in Connecticut with his family, including his twin sons.
www.alankatzbooks.com
Kris Easler has a masters in Illustration from Savannah College of Art and Design and lives in Chicago, Illinois.
www.kriseasler.com
Praise For The Day the Mustache Took Over (The Mustache Series #1)…
"Much random silliness and outlandish mischief will appeal to young readers. Simple language, readable sentences, and satisfyingly predictable twists offer an easy read for reluctant readers. Move over, Mary Poppins." —School Library Connection
"There's a laugh on every page, no, every sentence. It makes your head spin. And we all know how painful that can be. I loved it." —Dan Gutman, bestselling author of the My Weird School and My Weirder School series
"The humor in the book will certainly appeal to fans of Jeff Kinney's Diary of a Wimpy Kid and Lincoln Peirce's Big Nate, and Easler's illustrations add to the hilarity. . . The story is a delightful experience." —School Library Journal
"Nearly every line of the story is topsy-turvy, turning normalcy on its head, and Easler's b&w illustrations confirm it. This nonsensical, entertaining tale brings humor and fun to new heights." —Publishers Weekly
"Stuffed with rapid-fire comedy, Alan Katz's uproarious new novel will twist your brain until you scream. If The Cat in the Hat and Mary Poppins had a child, this crazy book would be it!" —Tony Abbott, author of GOOFBALLS and THE POSTCARD
"I laughed my head off. Which reminds me: has anyone seen my head?" —Tommy Greenwald, author of the Charlie Joe Jackson series
"If you want to read a roller coaster ride of a book filled with humor, mystery, international espionage, meatloaf, and a miniature hyena, then you absolutely MUST read The Day The Mustache Took Over. This is Alan Katz's brilliant brand of comedy at its best." —Nick Bruel, bestselling author of the Bad Kitty books
"The line drawings of innocent-looking lads and frazzled adults add further comical notes to this mischievous riff on the Travers classic." —Booklist