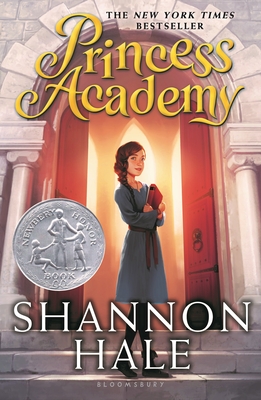 Princess Academy (Paperback)
Bloomsbury USA Childrens, 9781619636132, 336pp.
Publication Date: February 24, 2015
* Individual store prices may vary.
Description
A Newbery Honor Winner
A New York Times Bestseller

In this first book in New York Times bestselling, Newbery Honor-winning author Shannon Hale's Princess Academy series, Miri finds herself a sudden participant in a contest to find the next princess of the realm.
Miri lives on a mountain where, for generations, her ancestors have lived a simple life. Then word comes that the king's priests have divined her village the home of the future princess. In a year's time, the prince will choose his bride from among the village girls.
The king's ministers set up an academy on the mountain, and every teenage girl must attend and learn how to become a princess. Soon Miri finds herself confronted with a harsh academy mistress, bitter competition among the girls, and her own conflicting desires. Winning the contest could give her everything she ever wanted--but it would mean leaving her home and family behind.
Don't miss any of these other books from New York Times bestselling author Shannon Hale:
The Princess Academy trilogy
Princess Academy
Princess Academy: Palace of Stone
Princess Academy: The Forgotten Sisters
The Books of Bayern
The Goose Girl
Enna Burning
River Secrets
Forest Born
Book of a Thousand Days

Dangerous
Graphic Novels
with Dean Hale, illustrated by Nathan Hale
Rapunzel's Revenge
Calamity Jack
For Adults
Austenland
Midnight in Austenland
The Actor and the Housewife
About the Author
Shannon Hale's mother says she was a storyteller from birth, jabbering endlessly in her carriage as the two strolled through the neighborhood; once she could form complete sentences, she made up stories, bribing her younger siblings to perform them in mini plays. When she was ten, she began writing books, mostly fantasy stories where she was the heroine, and she continued writing secretly for years while pursuing acting in stage and improv comedy. After detours studying in Mexico, the U. K., and Paraguay, Shannon earned a bachelor's degree in English from the University of Utah and a Masters in Creative Writing from the University of Montana. In the interim, she submitted short stories and novels to magazines and publishers, saving all her rejection letters which she has since laminated into one continuous 60-foot roll which she proudly unfurls to audiences as a testament to her dedication and determination. Since the publication of her first book, The Goose Girl, in 2003, Shannon has become a beloved author to young readers as well as booksellers and educators. Her third novel, Princess Academy, earned her a Newbery Honor and is a New York Times, Book Sense, and Publishers Weekly bestseller. Shannon has also written books for adults, Austenland and The Actor and the Housewife. Shannon lives in Salt Lake City, Utah, with her husband, Dean, their children, and their pet, a small plastic pig.
Praise For Princess Academy…
"Shannon Hale's books reignite my love of reading--that joy of having the time of my life with a great story." —Stephenie Meyer, author of Twilight
"This is not a fluffy, predictable fairy tale . . . . Instead Hale weaves an intricate, multilayered story about families, relationships, education, and the place we call home." —School Library Journal, starred review
"The book is a fresh approach to the traditional princess story with unexpected plot twists and great emotional resonance." —2006 Newbery Committee
"Palace of Stone . . . proves once again that with quick wit and brave words, one person really can change the world." —School Library Journal on Princess Academy: Palace of Stone
"Powerful and deeply engaging." —Kirkus Reviews on Princess Academy: Palace of Stone
"This is not a fluffy, predictable fairy tale....Instead Hale weaves an intricate, multilayered story about families, relationships, education, and the place we call home." —SLJ, starred review for PRINCESS ACADEMY
"Palace of Stone . . . proves once again that with quick wit and brave words, one person really can change the world." —SLJ on Palace of Stone