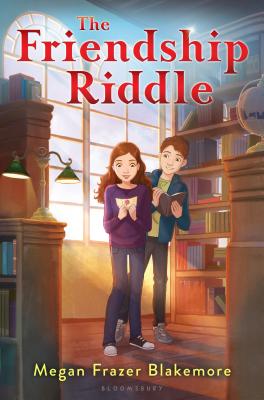 The Friendship Riddle (Hardcover)
Bloomsbury USA Childrens, 9781619636309, 368pp.
Publication Date: May 5, 2015
Other Editions of This Title:
Digital Audiobook (5/4/2015)
Paperback (5/3/2016)
Prebound (5/3/2016)
* Individual store prices may vary.
Description
With nods to classic fantasy expertly woven into this surprising and emotionally-charged journey through the ups and downs of middle school, Megan Frazer Blakemore proves that even the bravest heroes need true friends by their side.
Ruth Mudd-O'Flaherty has been a lone wolf at her new middle school ever since her best friend, Charlotte, ditched her for "cooler" friends. Who needs friends when you have fantasy novels? Roaming the stacks of her town's library is enough for Ruth. Until she finds a note in an old book...and in that note is a riddle, one that Ruth can't solve alone. With a tantalizing set of clues before her, Ruth must admit she needs help, the kind that usually comes from friends. Lena and Coco, two kids in her class could be an option, but allowing them in will require courage, and Ruth must decide: Is embarking on this quest worth opening herself up again?
About the Author
MEGAN FRAZER BLAKEMORE is the author of The Spy Catchers of Maple Hill and The Water Castle, which was listed as a Kirkus Reviews Best Book of the Year, a Bank Street Best Book of the Year, and as a New York Public Library Best Book for Reading and Sharing. She is also the author of the young adult novel Secrets of Truth And Beauty which received a starred review in Publishers Weekly and was on the ALA Rainbow list. A former middle-school librarian, Megan lives in Maine with her family. Visit her online at www.meganfrazerblakemore.com or follow her on Twitter @meganbfrazer.
Praise For The Friendship Riddle…
"Blakemore peppers her navigating-social-awkwardness arc with myriad topics. . . . for patient observers of social growth who enjoy varied intellectual and philosophical tidbits." —Kirkus Reviews
"A must-have selection for middle school mystery lovers." —School Library Journal
"Readers won't be prepared for the twist at the end of the mystery, but it brings a satisfying end to the story." —Booklist Online Exclusive
"Science, history and literature references glow . . . With keen intelligence and bits of humor, the prose slips calmly between narrative perspectives, trusting readers to pick up a revelation that Ephraim and Mallory don't see--and it's a doozy. This one is special." —starred review, Kirkus Reviews on THE WATER CASTLE
"What shines through . . . is Blakemore's tender understanding of how these children--and all children--feel about their lives and the adults who control them." —New York Times on THE WATER CASTLE
"It is no mystery that readers will come to love Hazel Kaplansky." —Kirby Larson, Newbery Honor-winning author of HATTIE BIG SKY, on THE SPY CATCHERS OF MAPLE HILL
"Thought provoking . . . a tribute to the great girl detectives of children's literature." —New York Times Book Review on THE SPY CATCHERS OF MAPLE HILL