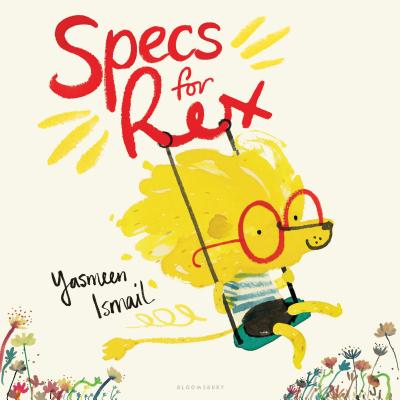 Specs for Rex (Hardcover)
Bloomsbury USA Childrens, 9781619637108, 32pp.
Publication Date: November 3, 2015
* Individual store prices may vary.
Description
Rex has new glasses and he does not like them one bit! He definitely does not want to wear them to school. He tries his best to hide them--under his hair, in his sandwich, anywhere he can--but it's tricky when they're so big and round and red. With help from his friends and family, can Rex learn to love his specs after all?
Yasmeen Ismail's debut picture book Time For Bed, Fred! has been hailed by Kirkus Reviews as "a sheer delight" and named a New York Times Book Review Editor's Choice. Now this breakout author/illustrator brings her distinctive and delightful sensibility to a sweet story that touches on universal themes of feeling different and celebrating what makes you special.

Awards for Time for Bed, Fred!

A New York Times Best Illustrated Book
A New York Times Book Review Editor's Choice
A Society of Illustrators Original Art Show Pick
About the Author
Yasmeen Ismail is an award-winning illustrator and animator who has a love of inks, paints and watercolours. Time For Bed, Fred! is her debut picture book. Originally from Ireland, Yasmeen now lives in London.
http://www.yasmeenismail.co.uk/
@YasmeenMay
Praise For Specs for Rex…
"The story is sweet . . . Ismail's exuberant watercolors capture the energy of a young child, with the lightness of the medium lending movement and energy to the pictures . . .This story displays a thoughtful understanding of its audience." - Booklist
"Ismail presents Rex's dilemma with sympathy, understanding, and a great deal of humor. . . Sweet, funny, and reassuring." - Kirkus Reviews
"Expressionistic watercolor paintings, juxtaposing both primary and complementary colors, create a warm, pleasing effect. This book may hold special appeal to young readers facing the prospect of glasses or other corrective devices." - School Library Connection
"Ismail . . . uses bright, beautiful brush strokes of watercolor to convey the manic, tail-wagging, mud-spattering energy that Fred, a furry black mop of a dog, brings to bedtime." - The New York Times Book Review on TIME FOR BED, FRED!
"A perfectly designed read-aloud for the bedtime staller. A sheer delight!" - starred review, Kirkus Reviews on TIME FOR BED, FRED!
"Fred's eager-to-please look and the constant trouble he gets into give this the makings of a bedtime favorite." - Publishers Weekly on TIME FOR BED, FRED!
"Ismail cleverly uses exclamations and rhetorical questions to liven up the familiar lets-get-ready-for-bed storyline. This book works well as a read aloud, as it begs for audience participation, and will likely become a bedtime favorite." - School Library Journal on TIME FOR BED, FRED!
"Fred is illustrated in watercolors that seem to soak through the page in thick blotches and rich, saturated colors. The effect is a wonderful sense of motion." - Booklist on TIME FOR BED, FRED!