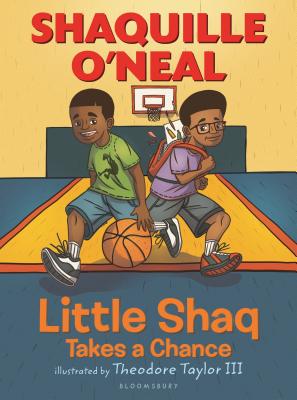 Little Shaq Takes a Chance (Hardcover)
Bloomsbury U.S.A. Children's Books, 9781619638440, 80pp.
Publication Date: April 26, 2016
Description
This new story in the exciting series created by Shaquille O'Neal and illustrated by Coretta Scott King/John Steptoe New Talent award winner Theodore Taylor III, encourages kids to find their own true talents.
Like most kids, Little Shaq doesn't love trying new things, especially if he might not be very good at them. So when his class is assigned projects for the school's upcoming art show, he's not sure that his skills will transfer from the basketball court to the art studio. Rosa Lindy and Barry have their projects all figured out. Can Little Shaq find the confidence to embrace his own style and create a piece for the show?
Continuing this series that celebrates community, family, and education, Little Shaq Takes a Chance will inspire readers the to be brave, have fun, and love reading
About the Author
Shaquille O'Neal is a retired basketball legend, businessman and current analyst on the Emmy award winning show, Inside the NBA on TNT. During his 19-year NBA career, O'Neal was a four-time NBA champion, a three-time Finals MVP, a 15-time All-Star and was named the 1993 Rookie of the Year. Since his rookie year, O'Neal has been an ambassador for the Boy's and Girl's Clubs of America, a group with whom his relationship goes back to his youth in New Jersey. Passionate about education, he has earned his Undergraduate degree from LSU, MBA from University of Phoenix and his PhD from Barry University in 2012. www.shaq.com@shaqTheodore Taylor III was awarded the 2014 Coretta Scott King John Steptoe New Talent Award for his first picture book When the Beat Was Born. An artist, designer, and photographer, Theodore lives in Washington, D.C.www.theodore3.com
Advertisement