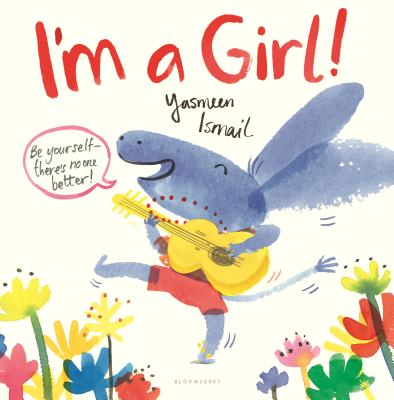 I'm a Girl! (Hardcover)
Bloomsbury USA Childrens, 9781619639751, 32pp.
Publication Date: May 31, 2016
* Individual store prices may vary.
Description
I'm supposed to be made of sugar and spice
and all things nice.
But I'm sweet and sour
and not a little flower.
I am a girl! I am a girl! I am a girl!
Meet a little girl who's spontaneous, fast, and strong and loves winning. Sometimes she's mistaken for a boy, but she definitely isn't one! When she meets a boy who likes wearing princess dresses and playing dolls, they quickly discover shared interests and a wonderful friendship.
I'm a Girl! is celebration of being who we are and not being restricted by stereotypes. Most of all it is joyful and full of energy. Be yourself - there's no one better!
Award for Time For Bed, Fred!
A New York Times Best Illustrated Book
A New York Times Book Review Editor's Choice
A Society of Illustrators Original Art Show Pick
About the Author
Yasmeen Ismail is an award-winning illustrator and animator who has a love of inks, paints and watercolours. Time For Bed, Fred! is her debut picture book. Originally from Ireland, Yasmeen now lives in London.
http://www.yasmeenismail.co.uk/
@YasmeenMay
Praise For I'm a Girl!…
"Young readers will giggle over the protagonist's misadventures. Most importantly, readers will relate to her belief that there is "no right or wrong way to play when you play 'pretend.'" A rallying cry to be enthusiastically true to oneself." - Kirkus Reviews
"Ismail acknowledges that boys face social pressures of their own, but this is a girl's story, and Ismail's exuberant watercolors beautifully capture her heroine's energy and doughty spirit." - Publishers Weekly
"A perfectly designed read-aloud for the bedtime staller. A sheer delight!" —starred review, Kirkus Reviews on TIME FOR BED, FRED!
"Ismail . . . uses bright, beautiful brush strokes of watercolor to convey the manic, tail-wagging, mud-spattering energy that Fred, a furry black mop of a dog, brings to bedtime." —The New York Times Book Review on TIME FOR BED, FRED!
"Fred's eager-to-please look and the constant trouble he gets into give this the makings of a bedtime favorite." —Publishers Weekly on TIME FOR BED, FRED!
"Ismail cleverly uses exclamations and rhetorical questions to liven up the familiar lets-get-ready-for-bed storyline. This book works well as a read aloud, as it begs for audience participation, and will likely become a bedtime favorite." —School Library Journal on TIME FOR BED, FRED!
"Fred is illustrated in watercolors that seem to soak through the page in thick blotches and rich, saturated colors. The effect is a wonderful sense of motion." —Booklist on TIME FOR BED, FRED!