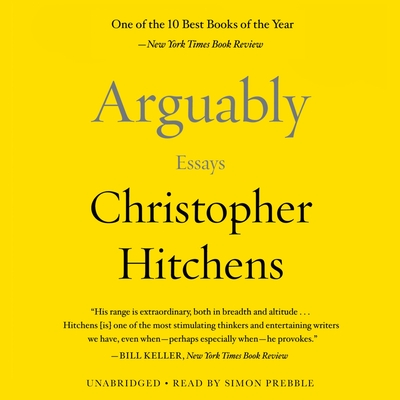 Arguably: Essays (Compact Disc)
Essays
Hachette Audio, 9781619692084, 24pp.
Publication Date: September 4, 2012
Description
The first new collection of essays by Christopher Hitchens since 2004, ARGUABLY offers an indispensable key to understanding the passionate and skeptical spirit of one of our most dazzling writers, widely admired for the clarity of his style, a result of his disciplined and candid thinking. Topics range from ruminations on why Charles Dickens was among the best of writers and the worst of men to the haunting science fiction of J.G. Ballard; from the enduring legacies of Thomas Jefferson and George Orwell to the persistent agonies of anti-Semitism and jihad. Hitchens even looks at the recent financial crisis and argues for arthe enduring relevance of Karl Marx. The audio book forms a bridge between the two parallel enterprises of culture and politics. It reveals how politics justifies itself by culture, and how the latter prompts the former. In this fashion, ARGUABLY burnishes Christopher Hitchens' credentials as-to quote Christopher Buckley-our "greatest living essayist in the English language."
About the Author
Christopher Hitchens is a contributing editor to Vanity Fair and a visiting professor of liberal studies at the New School. He regularly writes for the Atlantic Monthly and Slate, and is the author of numerous books, including the international bestseller and National Book Award nominee, god is not Great, and the New York Times bestselling memoir, Hitch-22. Born in Portsmouth, England, Hitchens was educated at the Leys School, Cambridge, and Balliol College, Oxford, where he read Philosophy, Politics, and Economics. From 1971-1981, he worked in Britain for the Times; the Times Higher Education Supplement; the New Statesman; London Weekend Television; and as chief foreign correspondent for the Daily Express. In 1981, he emigrated to the United States, where from 1982-2002 he wrote a legendary column called the "Minority Report" for The Nation. Since 1992, he has been columnist and contributing editor at Vanity Fair and, at different times, Washington editor and columnist for Harper's magazine, American columnist and correspondent for the Spectator, the New Statesman, the Times Literary Supplement, Sunday Today, and the Sunday Correspondent. As foreign correspondent and travel writer, he has written from more than sixty countries on all five continents.
Praise For Arguably: Essays…
"As contemptuous, digressive, righteous, and riotously funny as the rest of the author's incessant output, this memoir is an effective coming-of-age story, regardless of what one may think of the resulting adult . . . Hitchens paints a credible and even affecting self-portrait."
-The New Yorker

"In this frank, often wickedly funny account, Hitchens traces his evolution as a fiercely independent thinker and enemy of people who are convinced of their absolute certainty ... Revealing and riveting."
-Kirkus Review

"The most erudite and astute political and social commentator of this era has written a memoir that not only give the reader a view of the man behind the words but also a perceptive look at society over the past decades. Hitchens fascinates with the life he has lived and observed and, as always, relates his story with precision and consideration."
-Nicola's Books

"Hitch is as Hitch does, and he's not apologizing to anyone."
-Time Out New York

"[H]e has so many great quotes and quotables . . . that one cannot read his latest masterpiece for having to stop, find a pencil and page stickers in order to underline and signify his many remarks, each greater than the other."
-wowOwow.com

"Few writers can match his cerebral pyrotechnics. Fewer still can emulate his punch as an intellectual character assassin. It is hard not to admire the sheer virtuosity of his prose ... With Hitchens one simply goes along for the ride. The destination hardly matters."
-The Financial Times

"[D]electable, sassy fun . . . this book is intelligent and humane . . . Hitch-22 reminded me why I love the author of The Missionary Position, his fervent slapping of Mother Teresa, and his book about the war crimes of Henry Kissinger. Hitchens takes no prisoners, not even himself."
-The New Haven Review

"After reading Hitch-22, the only thing you can be sure of is that this flawed knight will not breathe contentedly unless he has a dragon to slay."
-The Miami Herald

"... a fat and juicy memoir of a fat and juicy life."
-The Washington Post

" ... a complex portrait of a public intellectual."
-The Wall Street Journal

"[An] extraordinary memoir by a truly astonishing figure of our literary age . . . This is among the most awaited books of the season, and while it confounds, misleads, exasperates and, on occasion, even bores, it also entertains to an almost shocking degree and illuminates almost as much. I laughed out loud - raucously and continuously - reading this book."
-Buffalo News

"Hitch-22 is among the loveliest paeans to the dearness of one's friends . . . I've ever read. The business and pleasure sides of Mr. Hitchens's personality can make him seem, whether you agree with him or not, among the most purely alive people on the planet."
-The New York Times

"If you find yourself in the midst of Christopher Hitchens's memoir and he hasn't said something to anger, inspire, or at least annoy you, wait a few pages. More the account of an intellectual and political odyssey than a conventional autobiography, HITCH-22 chronicles the critic-journalist-activist's often storm-tossed journey across the ideological spectrum. What makes it a most rewarding trip is that he's a traveling companion with a vigorous mind and a gift for sparkling prose."
-www.bookreporter.com

"Whether he's dodging bullets in Sarajevo, dissing Bill Clinton, (with whom he says he shared a girlfriend at Oxford) or explaining his switch from leftist to Iraq war supporter, this foreign correspondent, pundit, and bon vivant makes for an enlightening companion. Give HITCH-22 an 11 out of 10 for smarts, then double it for entertainment value."
-People Magazine

"a fascinating, absorbing book: the rare contemporary memoir that is the record of a life of true accomplishment and authentic adventure . . . Hitchens is bravely, or at least defiantly, candid about qualities his detractors might use to undermine or perhaps explain his love of war and his rabid hatred for religious people"
-The New York Observer

"[Hitchens] indulges in both an endearing critical self-examination and an action-packed adventure story."
-The New Haven Advocate

"Christopher Hitchens may long to be a cogent man of reason, and he can certainly be a pitiless adversary. But he knows there are two sides to any decent match, and it's touching, in HITCH-22, to see how often he'll race to the other side of the court to return his own serve. Which may explain why, though he tries to be difficult, he's so hard to dislike."
-The New York Times Book Review

"At its heart, Hitch-22 is a celebration of literature and a denunciation of idleness. "Hitchens is inarguably a man of action: He pursues history as it happens . . . eloquent, enlightening, and entertaining."
-The Onion's AV Club

Hitchens expresses ambivalence about the term "public intellectual" but, as "Hitch-22" demonstrates, it suits him. The disputatious bon vivant is alive on the page, behind the speaker's podium and in "unglamorous houses on off-peak cable TV."
-The Sunday Oregonian

Christopher Hitchens' memoir has the same nerve and frankness that first made me admire him . . . His perspective on becoming an American citizen is refreshing at a time when it's easy to become jaded about our role in the world.
-The Seattle Times

"With the possible exception of Tom Wolfe and Maureen Dowd's, Christopher Hitchens' marvelous byline is the most archly kinetic in current-day American letters. Every article, review and essay has the romantic whiff of a durable vintage. You might disagree with him. You might question his motives. But not for a second will you ever be bored . . . goes on to call the memoir cunning, illuminating . . . Being able to shape-change, shed skins, sit on the hillside overlooking suburbia like a coyote, Hitchens represents a dying breed of public intellectual whose voice matters precisely because it can't be easily pigeonholed or ignored."
-The Los Angeles Times

"One of the most engaging, exciting books I've read in years . . . The writing is lovely - introduction aside, which threatens early onset pretentia - Hitchens' cold-eyed evaluation of his younger self feels honest. To be sure, "Hitch 22'' is often a chronicle of Hitchens' best efforts. He teaches us that "cheap booze is false economy'' and reveals a youth engaged in boarding school homosexuality. But thankfully, Hitchens' efforts, friends, and close calls are rendered wonderfully in this strange book. Ultimately, "Hitch 22'' is about cultivating and maintaining one's intellectual integrity. As Hitchens writes, "[I]t is always how people think that counts for much more than what they think.''. . . But memoir generates pleasure through voice and sensibility, not through comprehensiveness. Nobody ever said self-awareness must lead to self-revelation, and even if you don't like what Hitchens thinks, it's easy to admire how he thinks."
-The Boston Globe

"When the colorful, prolific journalist shares a tender memory, he quickly converts it into a larger observation about politics, always for him the most crucial sphere of moral and intellectual life."
-The New York Times Book Review

"Hitchens offers up surprising revelations about the methods behind his madness as one of the world's most beloved and often hated scribes . . . bold and brassy Hitchens characteristically treats himself as the subject he knows best."
-The Philadelphia City Paper

"Reading Hitch-22, his fascinating memoir of a career in combat journalism (both literal and figurative), one gets a sense that those looking for that tragic moment when a reliable man of the left became a fellow traveler of the right are asking the wrong question. On the big political issues that have long animated him-Middle Eastern politics, the dangers of religious messianism-his views have been surprisingly constant."
-Reason Magazine
Advertisement