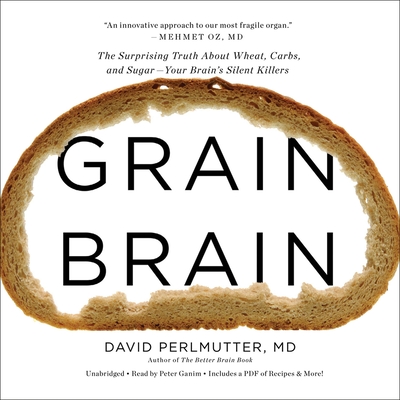 Grain Brain (CD-Audio)
The Surprising Truth about Wheat, Carbs, and Sugar--Your Brain's Silent Killers
Little, Brown & Company, 9781619698468
Publication Date: September 17, 2013
Other Editions of This Title:
Hardcover, Large Print (9/17/2013)
Hardcover (9/17/2013)
MP3 CD (5/15/2014)
Compact Disc (5/15/2014)
Pre-Recorded Audio Player (9/17/2013)
* Individual store prices may vary.
Description
From #1 New York Times bestselling author Dr. Perlmutter, the devastating truth about the effects of wheat, sugar, and carbs on the brain, and a 4-week plan to achieve optimum health.

In Grain Brain, renowned neurologist David Perlmutter, MD, blows the lid off a finding that's been buried in medical literature for far too long: carbs are destroying your brain. Even so-called healthy carbs like whole grains can cause dementia, ADHD, anxiety, chronic headaches, depression, decreased libido, and much more.

Groundbreaking and timely, Grain Brain shows that the fate of your brain is not in your genes, it's in the food you eat. Dr. Perlmutter explains what happens when your brain encounters common ingredients in fruit bowls and bread, how statins may be erasing your memory, why a diet high in "good fats" is ideal, and how to spur the growth of new brain cells at any age. And his revolutionary 4-week plan will show you how to keep your brain healthy and sharp while dramatically reducing your risk for debilitating neurological disease -- without drugs.

Featuring a blend of cutting-edge research, real-life stories of transformation, and accessible, practical advice, Grain Brain teaches you how to take control of your "smart genes," regain wellness, and enjoy lifelong health and vitality.

About the Author
David Perlmutter, MD, is president of the Perlmutter Health Center in Naples, Florida, and the co-founder and president of The Perlmutter Brain Foundation. He is the recipient of numerous awards, including the Humanitarian of the Year Award from the American College of Nutrition and the Linus Pauling Award, and he serves on the Medical Advisory Board of
The
Dr. Oz Show.
A frequent lecturer, he writes a blog at
VanguardNeurologist.com
and is a contributor to
The
Huffington Post
. He is the author of
The Better Brain Book
,
Raise a Smarter Child by Kindergarten
, and
Power Up Your Brain.
Praise For Grain Brain: The Surprising Truth about Wheat, Carbs, and Sugar--Your Brain's Silent Killers…
"Dr. Perlmutter outlines an innovative approach to our most fragile organ, the brain. He is an absolute leader in the use of alternative and conventional approaches in the treatment of neurologic disorders. I have referred him patients with wonderful results. He is on the cutting edge and can help change the way we practice medicine." --Mehmet Oz, MD

"Dr. Perlmutter takes us on a detailed tour of the destructive effects that 'healthy whole grains' have on our brains. Modern wheat, in particular, is responsible for destroying more brains in this country than all the strokes, car accidents, and head trauma combined. Dr. Perlmutter makes a persuasive case for this wheat-free approach to preserve brain health and functioning, or to begin the process of reversal." --William Davis, MD, author of Wheat Belly

"If you want to boost your brain power, keep your memory, and lift your mood and energy, as well as heal from a host of other common complaints, Dr. Perlmutter is your guide. This is the definitive instruction book for the care and feeding of your brain!" --Mark Hyman, MD, author of The Blood Sugar Solution

"Dementia and many other brain diseases are not inevitable, nor are they genetic. They are directly and powerfully linked to a diet high in sugar and grains. Grain Brain not only proves this, it also gives you everything you need to know to protect your brain--or a loved one's--now."--Christiane Northrup, MD, author of Women's Bodies, Women's Wisdom

"This book is a treasure. It is filled with self-empowering wisdom and easily understood leading-edge science. It can help you to avoid the devastating effects of an unhealthy diet and the dietary factors which are involved. By learning from the information presented in Dr. Perlmutter's book, you can avoid multiple health and neurological problems."--Bernie Siegel, MD, author of Faith, Hope, and Healing and The Art of Healing

"A provocative, eye-opening scientific account of how diet profoundly influences nerve health and brain function. Grain Brain explains how the American diet rich in gluten and inflammatory foods is linked to neurological conditions. Dr. Perlmutter outlines a blueprint for optimal health and a more resilient brain through proper nutrition and lifestyle. Grain Brain is a must-read!"--Gerard E. Mullin, MD, Associate Professor of Medicine, The Johns Hopkins School of Medicine, and author of The Inside Tract: Your Good Gut Guide to Great Digestive Health

"Dr. Perlmutter is the leading integrative medicine neurologist in North America today. His ability to fully integrate conventional medicine diagnosis and treatment with the latest innovations in nutritional and environmental medicine is phenomenal. As a teacher and clinician, he has fundamentally changed how physicians and patients think about neurological degeneration and, happily, regeneration." --Joseph Pizzorno, MD, coauthor of Encyclopedia of Natural Medicine

"Dr. Perlmutter provides sound advice, supported by the latest and most well respected medical research." --Russell. B. Roth, MD, Past President, American Medical Association

"A galvanizing call to arms against a gluten-heavy diet....Perlmutter's credentials as a board-certified neurologist and American College of Nutrition Fellow make him a uniquely qualified voice in the debate about which foods are best for the brain and body." --Kirkus Reviews



"Mind-blowing and disruptive to some long-standing beliefs about what our bodies require for optimal health...GRAIN BRAIN lays out an easy-to-understand roadmap packed with the latest science." --Max Lugavere, Psychology Today



"A tour de force that is destined to save many lives. As I read this important and well-written book I found myself nodding my head vigorously in agreement at practically every page. [Grain Brain] gives us what we need to know to be well again. Please read it." --Health Central