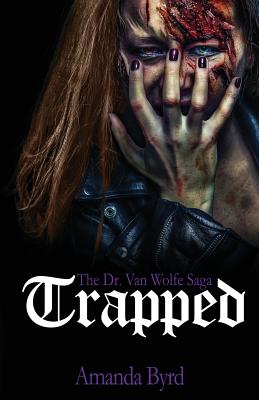 Trapped
The Dr. van Wolfe Saga Book 1
Paperback

* Individual store prices may vary.
Description
I'm a hybrid. Sort of. I'm also still human somehow. Some call me a monster, but I'm a "good" kind of monster. You know, like the serial killers who kill the drug dealers, rapists, and general scum of the earth.

Being a hybrid has its perks: superhearing and speed, plus that awesome healing ability, but it has its downsides, too.
I'm also a therapist; the one these scum pay to... talk to. I listen, sure. But then I have my own personal brand of justice. It gets messy, so if you plan to stick around, might I suggest you wear a rubber suit?
If you like The Vampire Diaries, The Originals, Dexter, or Hannibal, you'll love Trapped, the first of The Dr. van Wolfe Saga
From the back cover:
I'm stuck - stuck in this body with two blood- hungry beasts who happen to be relatively clueless to what being human means. Luckily, I still have that part of me, too. I realized a while ago what happened to make me this way and now I'm on a mission to find a cure without killing myself in the process.

I also may have the opportunity to buy a castle in England complete with gargoyles. Am I going to? You bet I am But while I was there, I gained a follower of sorts - a watcher. I don't know who it is or why, but my monsters inside are helping me to figure it out. The watcher even followed me home - I feel them.

At least I can get back to helping my patients and finding that cure to rid myself of this werepireism. How will I ditch the watcher before they out me for the monster I truly am?
Blacksheep Press, 9781619848160, 198pp.
Publication Date: February 23, 2018