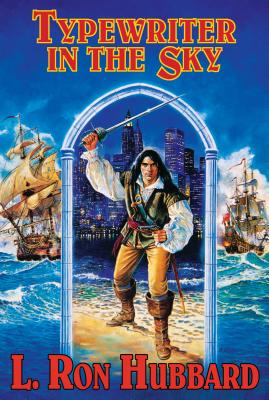 Typewriter in the Sky (Paperback)
Galaxy Press (CA), 9781619862128, 197pp.
Publication Date: April 15, 2013
* Individual store prices may vary.
Description
It's not easy living in someone else's world. But that's the story of Mike de Wolf's life ... literally.
The whole thing started at his friend Horace's Greenwich Village apartment. Horace is a writer and he's decided to model one of his villains after Mike. Sounds crazy ... until Mike reaches to turn on a light and gets the shock of his life.
Knocked unconscious, Mike wakes up to find himself tossing in a violent ocean surf and getting slammed against the rocks. That wouldn't be so bad if it weren't for the bullets flying over his head, followed by the swordfight, certain to end in death ... if not for the wild, beautiful woman on horseback who comes to his rescue.
This isn't the West Village anymore. Apparently it's the West Indies, some three hundred years ago, and Mike de Wolf is now Miguel Saint Raoul de Lobo, pursued across the Spanish Main by pirates, Englishman, and worse.
He doesn't know how he got here or why, but he does know he has to get out fast. Two problems: first off, the bad guys in Horace's stories never get out alive, and second, Mike's not all that sure he wants to leave after all. Seems he's fallen for that wild woman on horseback.... What's a guy to do?
The answer's written in the sky--in a wildly original, wickedly amusing novel in which, if you're not careful, you might just find yourself getting lost.
"An adventure story written in the great style adventures should be written in." --Clive Cussler
About the Author
With 19 New York Times bestsellers and more than 230 million copies of his works in circulation, L. Ron Hubbard is among the most acclaimed and widely read authors of our time. As a leading light of American Pulp Fiction through the 1930s and '40s, he is further among the most influential authors of the modern age. Indeed, from Ray Bradbury to Stephen King, there is scarcely a master of imaginative tales who has not paid tribute to L. Ron Hubbard.