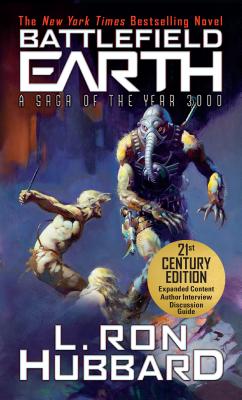 Battlefield Earth
A Saga of the Year 3000
Mass Market Paperbound

* Individual store prices may vary.
Description
Sadistic
Aliens......Man is an endangered
species.Is it the end of the world or
the rebirth of a new one? In the year A.D. 3000,
Earth is a dystopian wasteland. The great cities stand crumbling as a brutal
reminder of what we once were. When the Psychlos invaded, all the world's
armies mustered little resistance against the advanced alien weapons.Now, the man animals serve one
purpose.Do the
Psychlos' bidding or face extinction.One
man, Jonnie Goodboy Tyler, has a plan. They must learn about the Psychlos and
their weapons. He needs the other humans to follow him. And that may not be
enough.Can he outwit
his Psychlo captor, Terl?The
fate of the Galaxy lies on the Battlefield of Earth.Get it now."Pulse-pounding
mile-a-minute sci-fi action-adventure that does not stop. It is a masterpiece
of popular adventure science fiction." --Brandon
Sanderson"Battlefield Earth is
like a 12-hour 'Indiana Jones' marathon. Non-stop and fast-paced. Every chapter
has a big bang-up adventure." --Kevin J.
Anderson (co-author of the Dune Sagas)"Over 1,000 pages of
thrills, spills, vicious aliens and noble humans. I found Battlefield Earth
un-put-downable." --Neil Gaiman
Galaxy Press (CA), 9781619865099, 1008pp.
Publication Date: September 5, 2017
About the Author
With 19 New York Times bestsellers and more than 230 million copies of his works in circulation, L. Ron Hubbard is among the most acclaimed and widely read authors of our time. As a leading light of American Pulp Fiction through the 1930s and '40s, he is further among the most influential authors of the modern age. Indeed, from Ray Bradbury to Stephen King, there is scarcely a master of imaginative tales who has not paid tribute to L. Ron Hubbard.