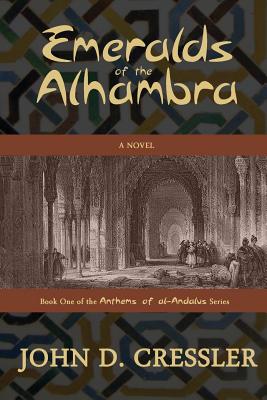 Emeralds of the Alhambra
Paperback

* Individual store prices may vary.
Description
How could we forget? We live in a world being torn apart by religious tensions and fanaticism, yet we managed to forget that for hundreds of years Christians, Muslims and Jews lived together in peace, sharing languages and customs, embracing a level of tolerance and mutual respect unheard of today. Working together, these three peoples spawned one of the great intellectual and cultural flowerings of history. When and where? Medieval Spain. Our aching world desperately needs to recall this forgotten fact, these rich possibilities. Emeralds of the Alhambra, a historical novel, reawakens this remarkable era via the relationship between William Chandon, a wounded Christian knight brought to the Sultan's court in Granada, and the strong-willed Layla al-Khatib, who is on a quest to become the first female Sufi Muslim mystic in a male-dominated society. As Chandon's influence at court grows, he becomes trapped between his forbidden love for Layla, his Christian heritage, the demands of chivalry, and political expediency. Chandon must make a choice between love and honor, peace and war, life and death, a choice which ultimately will seal Granada's fate as the last surviving stronghold of Muslim Spain. Emeralds is set in the resplendent Alhambra Palace in Granada during the Castilian Civil War (1367-1369), a time when, improbably, Muslims took up their swords to fight alongside Christians. Emeralds of the Alhambra is the first book in the trilogy Anthems of al-Andalus. 438 pages with many maps and photographs.
Praise For Emeralds of the Alhambra…
"A deeply moving and enlightening novel on the co-existence of religions."
─Shirin Ebadi, Nobel Peace Prize Laureate

"…A thoroughly gripping and engaging first novel."
─Professor Susan Abraham, Harvard Divinity School

"…Seamlessly weaves history, religion, passion, loyalty and romance into a compelling, beautifully-written narrative…"
─Rabbi Rachael M. Bregman, Temple Beth Tefiloh and Rabbis Without Borders

"…More than ever, we need stories like Cressler tells, confirming the transformative power of relationships…"
─Eboo Patel, Founder and President, Interfaith Youth Core

"…A moving story of love across boundaries, set at a critical point in history…With unmatched and vivid descriptions of place, lifestyle, manners and practices…"
─Salma Khadra Jayyusi, poet, writer and literary historian

Sunbury Press, Inc., 9781620061978, 446pp.
Publication Date: May 10, 2013
or
Not Currently Available for Direct Purchase