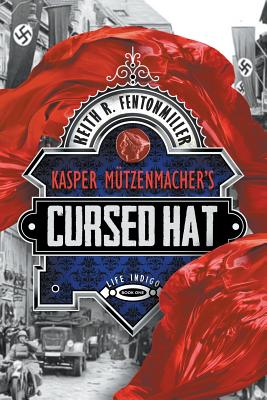 Kasper Mützenmacher's Cursed Hat (Life Indigo #1)
Paperback

* Individual store prices may vary.
Description
Kasper M tzenmacher keeps a divine "wishing hat"--a thought-operated teleportation device--locked in the wall safe of his Berlin hat shop.
According to an old prophecy, after Kasper's Greek ancestor stole the wishing hat from Hermes, Fate cursed his progeny to sell hats, on pain of mayhem or death. Kasper, however, doesn't mind making hats, and he loves Berlin's cabaret scene even more. But his carefree life of jazz and booze comes to a screeching halt when he must use the wishing hat to rescue his flapper girlfriend Isana from the shadowy Klaus, a veil-wearing Nazi who brainwashes his victims until they can't see their own faces.

Isana and Kasper's happiness proves fleeting. Years after her mysterious death, Kasper struggles as a lonely, single father of two until he meets Rosamund Lux, recently released from a political prison where Klaus took her face. Kasper soon suspects that Rosamund is no ordinary woman. According to the prophecy, certain Lux women descend from the water nymph Daphne, who, during Olympian times, transformed into a laurel tree to avoid Apollo's sexual advances; they, too, suffer from an intergenerational curse connected to Hermes' stolen hat. As Kasper falls deeper in love, Rosamund's mental health deteriorates. She has nightmares and delusions about Klaus, and warns that he will launch a night of terror once he's collected enough faces.

Kasper dismisses the growing Nazi threat until the government reclassifies him as a Jew in 1938. His plan to emigrate unravels when anti-Jewish riots erupt and the Nazis start loading Jews on boxcars to Dachau. Then Rosamund goes missing, and Klaus steals the wishing hat, the family's only means of escape.

Kasper, however, will face his most difficult battle in America. He must convince his wayward son and indifferent grandson to break the curse that has trapped the family in the hat business for sixteen centuries. Their lives will depend on it.

Book One of the Life Indigo series, Kasper M tzenmacher's Cursed Hat is a fantastical family saga about tradition, faith, and identity, set during the Jazz Age, Nazi Germany, and the Detroit race riots of 1943.
Curiosity Quills Press, 9781620072851, 350pp.
Publication Date: March 20, 2017
or
Not Currently Available for Direct Purchase