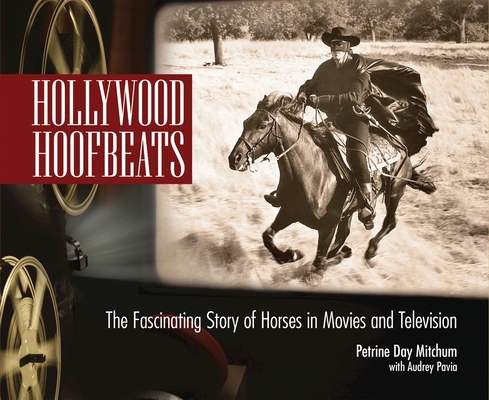 Hollywood Hoofbeats: The Fascinating Story of Horses in Movies and Television (Paperback)
The Fascinating Story of Horses in Movies and Television
Lumina Press, 9781620081334, 224pp.
Publication Date: November 11, 2014
Description
The horses that captured the moviegoers hearts are the common denominator in Hollywood Hoofbeats. As author Petrine Day Mitchum writes, the movies as we know them would be vastly different without horses. There would be no Westernsno cowboy named John Wayneno Gone with the Wind, no Ben Hur, no Dances with Wolves no War Horse, no True Grit, no Avatar Those last three 21st-century Hollywood creations are among the new films covered in this expanded second edition of Hollywood Hoofbeats written by the daughter of movie star Robert Mitchum, who himself appeared on the silver screen atop a handsome chestnut gelding. Having grown up around movie stars and horses, Petrine Day Mitchum is the ideal author to pay tribute to the thousands of equine actors that have entertained the world since the inception of the film medium.
From the early days of D.W. Griffith's The Great Train Robbery to Quentin Tarantino's Django Unchained, this celebration of movies promises something for every Hollywood fan the raucous comedy of Abbot and Costello (and Teabiscuit ) in It Ain t Hay, a classic sports films like National Velvet starring Elizabeth Taylor, a timeless epic with Errol Flynn, and films featuring guitar-strumming cowboys like Gene Autry and Roy Rogers.
INSIDE HOLLYWOOD HOOFBEATS
Movie trivia and fascinating anecdotes about the stars of yesterday and today
An inside look at the stunts horses performed in motion pictures and the lingering controversies
Hundreds of illustrations, including rare movie posters, movie stills, and film clips
Updated, expanded text including coverage of new movies and photographs
Chapters devoted to action films, Westerns, comedies, musicals, child stars, and more
Famous TV programs and their horses including Mr. Ed and Silver (Lone Ranger)

About the Author
Petrine Day Mitchum: Petrine Day Mitchum is an award-winning filmmaker who has written and directed films have appeared on Saturday Night Live! Petrine has been a story editor and script analyst for Pathe, TriStar Pictures, and DreamWorks. As a photojournalist, she has contributed to numerous publications, including Horse Illustrated. She is currently working on a documentary film version of Hollywood Hoofbeats and an illustrated book about a rescued dog titled Snout About Town. She lives in Santa Ynez, California with her three rescued dogs and her two American Quarter Horses, Photo Op and Genuine Rascal Jac. Audrey Pavia: Audrey Pavia is a former editor of Horse Illustrated magazine and an award-winning freelance writer specializing in equine subjects. She has authored articles on various equine topics in Western Horseman, The Trail Rider, Thoroughbred Times, Horses USA, Your New Horse and Young Rider magazines. She has authored six books about horses. In addition to her experience as an equine writer, Audrey is also a former managing editor of Dog Fancy magazine and a former Senior Editor of the American Kennel Club Gazette. She has authored more than 1,000 articles on the subject of animals, and has written 17 books on various kinds of pets. Audrey has been involved with horses since the age of 9. She has owned and cared for equines throughout her life, and has trained in both Western and English disciplines. She currently resides in Norco, California, with her two Spanish Mustangs, Rio and Milagro."
Coverage from NPR
Advertisement