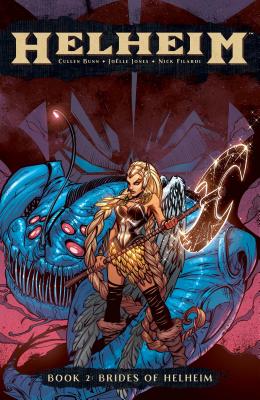 Helheim Vol. 2 (Paperback)
Brides of Helheim
Oni Press, 9781620102299, 152pp.
Publication Date: November 3, 2015
Other Editions of This Title:
Paperback (3/1/2016)
* Individual store prices may vary.
Description
Years have passed since Rikard's victory over Bera and Groa. In defeating the witches, Rikard saved his people. And yet he cannot rest—he is still denied the promise of Valhalla. The warrior is condemned to wander the living world as an undead draugr. Now, new challenges lie before Rikard, as the draugr is sent to claim a Blood Debt from the mad warlock who taught the witches their dark arts.
About the Author
CULLEN BUNN is the writer of comic books such THE SIXTH GUN, SHADOW ROADS, THE DAMNED, HELHEIM, and THE TOOTH for Oni Press. He has also written titles including HARROW COUNTY (Dark Horse), UNCANNY X-MEN, and DEADPOOL AND THE MERCS FOR MONEY (Marvel). Cullen claims to have worked as an Alien Autopsy Specialist, Rodeo Clown, Pro Wrestling Manager, and Sasquatch Wrangler. He has fought for his life against mountain lions and performed on stage as the World's Youngest Hypnotist. Buy him a drink sometime, and he'll tell you all about it. His website is www.cullenbunn.com. Twitter: @cullenbunn

Nick Filardi can be found coloring Powers, Angel City, Cave Carson Has a Cybernetic Eye, Howling Commandos of S.H.I.E.L.D., and Slash & Burn, when he isn't tinkering with Magic: The Gathering decks. He resides with his 3-legged dog in sunny Florida.
or
Not Currently Available for Direct Purchase