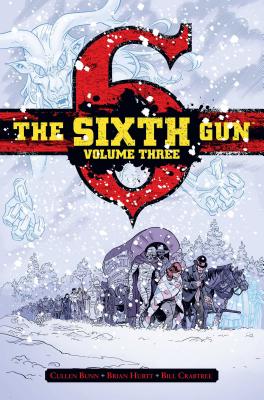 The Sixth Gun Vol. 3
Deluxe Edition
Hardcover

* Individual store prices may vary.
Other Editions of This Title:
Paperback (5/8/2012)
Description
Traveling by secret railroad, Becky and Drake accompany an order of mysterious monks on a quest to bury General Hume's body on holy ground. But, when malevolent forces spurred by a sinister necromancer stage a terrifying attack on the train, Drake vanishes without a trace! Alone, Becky continues her journey to a secluded mountain fortress where she discovers how deeply her fate is entwined with that of The Sixth Gun. Meanwhile, Gord revisits a haunted mansion from his past hoping to discover a means to destroy the Six, but the ghosts he stirs have no intention of letting his quest continue.
Oni Press, 9781620102848, 368pp.
Publication Date: November 17, 2015
About the Author
CULLEN BUNN is the writer of comic books such THE SIXTH GUN, SHADOW ROADS, THE DAMNED, HELHEIM, and THE TOOTH for Oni Press. He has also written titles including HARROW COUNTY (Dark Horse), UNCANNY X-MEN, and DEADPOOL KILLS THE MARVEL UNIVERSE (Marvel). Cullen claims to have worked as an Alien Autopsy Specialist, Rodeo Clown, Pro Wrestling Manager, and Sasquatch Wrangler. He has fought for his life against mountain lions and performed on stage as the World's Youngest Hypnotist. Buy him a drink sometime, and he'll tell you all about it. His website is www.cullenbunn.com. Twitter: @cullenbunn

Brian Hurtt is an artist/writer who has spent most of his career working on collaborative creator-owned projects. His first such collaboration was in 2006 when Brian teamed with writer Cullen Bunn to create the Prohibition-era, monster-noir, cult classic, The Damned. A few years later the two teamed up again to create The Sixth Gun--a weird-west, epic supernatural fantasy. Spun out of that world, they're now collaborating on Shadow Roads. Brian also contributes to the popular webcomic Table Titans, in which he is the writer and artist of the stories "Whispers of Dragons" and "Road to Embers". Brian lives and works in St. Louis, Missouri. Brihurtt.com Twitter: @brihurtt