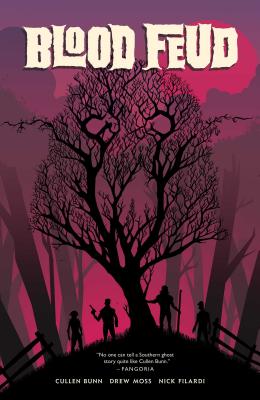 Blood Feud (Paperback)
Oni Press, 9781620103173, 144pp.
Publication Date: July 5, 2016
* Individual store prices may vary.
Description
I've got a story to tell—a story about how me and a couple of poker buddies squared off against the very legions of Hell ... and maybe even saved the world. Like all good yarns, this one has its share of action, adventure, mystery, and romance. As for how it ends, though, you'll have to judge for yourself. Me, I've always been partial to happy endings—the singing cowboy riding off into the sunset—but I reckon that just ain't the way of the world. This story's got vampires, too, loads of them, but not in the beginning. It began, for us at least, with spiders. Collecting 2015's most terrifying southern horror series from writer Cullen Bunn, artist Drew Moss, and colorist Nick Filardi!
About the Author
CULLEN BUNN is the writer of comic books such THE SIXTH GUN, SHADOW ROADS, THE DAMNED, HELHEIM, and THE TOOTH for Oni Press. He has also written titles including HARROW COUNTY (Dark Horse), UNCANNY X-MEN, and DEADPOOL AND THE MERCS FOR MONEY (Marvel). Cullen claims to have worked as an Alien Autopsy Specialist, Rodeo Clown, Pro Wrestling Manager, and Sasquatch Wrangler. He has fought for his life against mountain lions and performed on stage as the World's Youngest Hypnotist. Buy him a drink sometime, and he'll tell you all about it.

Nick Filardi can be found coloring Powers, Angel City, Cave Carson Has a Cybernetic Eye, Howling Commandos of S.H.I.E.L.D., and Slash & Burn, when he isn't tinkering with Magic: The Gathering decks. He resides with his 3-legged dog in sunny Florida.
or
Not Currently Available for Direct Purchase