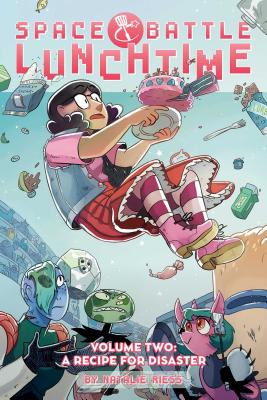 Space Battle Lunchtime Vol. 2 (Paperback)
A Recipe for Disaster
Oni Press, 9781620104040, 120pp.
Publication Date: July 4, 2017
Other Editions of This Title:
Paperback (10/25/2016)
Paperback (10/6/2020)
* Individual store prices may vary.
Description
It's almost time for the season finale of Space Battle Lunchtime, and finalist Peony (the only Earth contestant) is nowhere to be found! That's because she's been kidnapped and taken to the set of Space Battle Lunchtime's biggest rival, Cannibal Coliseum, where chefs compete to cook... each other. Up against some of the most dangerous aliens in the galaxy, will Peony even make it to the end of the show? Stay tuned!
About the Author
Natalie Riess is from a distant, unknown star. Her motives are unknown, but she seems to enjoy drawing food and making comics. She lives in Texas with her girlfriend and her girlfriend's cat.