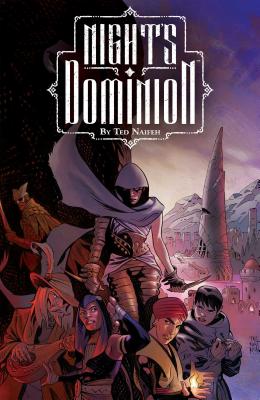 Night's Dominion Vol. 1
Paperback

* Individual store prices may vary.
Description
A thief, an assassin, a mage and a cleric walk into a tavern in the ancient city of Umber. Awaiting them is a mysterious bard with a dangerous scheme: to break into the dungeon of a powerful death cult in search of treasure. For these five desperate criminals, it's the last chance for hope in a city of corruption and despair. But what they find instead is an undead army preparing to conquer the world. Now, they must fight to protect the city that pushed their backs to the wall, or watch it burn. The acclaimed fantasy epic from New York Times Best-Selling author Ted Naifeh (COURTNEY CRUMRIN, PRINCESS UGG) begins here!
Oni Press, 9781620104101, 168pp.
Publication Date: July 11, 2017
About the Author
Ted Naifeh first appeared in the independent comics scene in 1999 as the artist for Gloomcookie, the goth romance comic he co-created with Serena Valentino for SLG Publishing. After a successful run, Ted decided to strike out on his own, writing and drawing Courtney Crumrin and the Night Things, a spooky children's fantasy series about a grumpy little girl and her adventures with her Warlock uncle. Nominated for an Eisner Award for best limited series, Courtney Crumrin's success paved the way for Polly and the Pirates, another children's book, this time about a prim and proper girl kidnapped by pirates convinced she was the daughter of their long-lost queen. Over the next few years, Ted wrote four volumes of Courtney Crumrin, plus a spin off book about her uncle. He also co-created How Loathsome with Tristan Crane, and illustrated two volumes of the videogame tie-in comic Death Junior with screenwriter Gary Whitta. More recently, he illustrated The Good Neighbors, a three volume graphic novel series written by New York Times best-selling author Holly Black, published by Scholastic. In 2011, Ted wrote the sequel to Polly and the Pirates, and illustrated several Batman short stories for DC Comics. In 2012, to celebrate the 10th anniversary of Courtney Crumrin, he wrote and illustrated the final two volumes of the series. Currently, you can find Ted everywhere: from the pages of Batman '66 to his newest original series for adults, Night's Dominion. Ted lives in San Francisco, because he likes dreary weather.