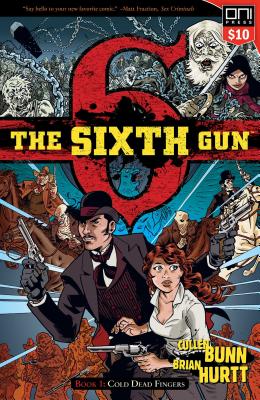 The Sixth Gun Vol. 1 (Paperback)
Cold Dead Fingers, Square One Edition
Oni Press, 9781620104200, 176pp.
Publication Date: June 27, 2017
Other Editions of This Title:
Hardcover (10/10/2013)
Paperback (1/25/2011)
* Individual store prices may vary.
Description
During the darkest days of the Civil War, wicked cutthroats came into possession of six pistols of otherworldly power. In time the Sixth Gun, the most dangerous of the weapons, vanished. When the gun surfaces in the hands of an innocent girl, dark forces reawaken. Vile men thought long dead set their sights on retrieving the gun and killing the girl. Only Drake Sinclair, a gunfighter with a shadowy past, stands in their way. Get the first volume of this critically acclaimed series for only $10 as part of Oni's Square One program!
About the Author
Brian Hurtt is an artist/writer who has spent most of his career working on collaborative creator-owned projects. His first such collaboration was in 2006 when Brian teamed with writer Cullen Bunn to create the Prohibition-era, monster-noir, cult classic, The Damned. A few years later the two teamed up again to create The Sixth Gun--a weird-west, epic supernatural fantasy. Spun out of that world, they're now collaborating on Shadow Roads. Brian also contributes to the popular webcomic Table Titans, in which he is the writer and artist of the stories "Whispers of Dragons" and "Road to Embers". Brian lives and works in St. Louis, Missouri. Brihurtt.com Twitter: @brihurtt