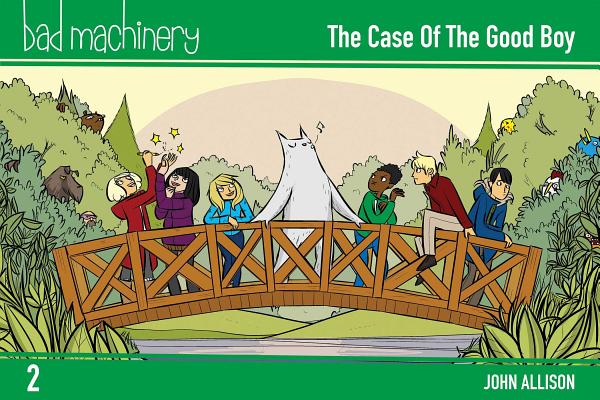 Bad Machinery Vol. 2
The Case of the Good Boy, Pocket Edition
Paperback

* Individual store prices may vary.
Description
Everyone's favorite pre-teen British detectives are back for another case! With toddlers disappearing and rumors of a large, beast-like creature roaming the woods, Tackleford is in serious danger. And then there's Mildred's new dog Archibald... if you can even call it a dog. After all, what kind of dog drinks tea out of a cup? Everything comes to a head once the boys get a picture of the beast and Archibald goes missing. Is there a connection? And what does it all have to do with the magic pencil Mildred won from a carnie con game?
Oni Press, 9781620104217, 144pp.
Publication Date: September 12, 2017
About the Author
Born in a hidden village deep within the British Alps, John Allison came into this world a respectable baby with style and taste. Having been exposed to American comics at an early age, he spent decades honing his keen mind and his massive body in order to burn out this colonial cultural infection. One of the longest continuously publishing independent web-based cartoonists, John has plied his trade since the late nineties moving from Bobbins to Scary Go Round to Bad Machinery, developing the deeply weird world of Tackleford long after many of his fellow artists were ground into dust and bones by Time Itself. He has only once shed a single tear, but you only meet Sergio Aragon's for the first time once. John resides in Letchworth Garden City, England, and is known to his fellow villagers only as He Who Has Conquered.