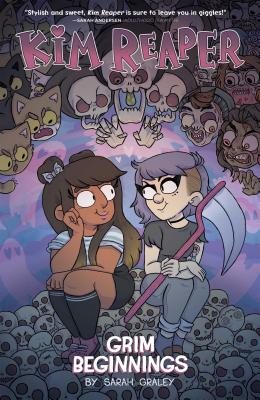 Kim Reaper Vol. 1
Grim Beginnings
Paperback

* Individual store prices may vary.
Description
2018 Chicago Public Library Best Books of the Year - Teen Graphic Novels

Part-time grim reaper. Full-time cutie! Like most university students, Kim works a part-time job to make ends meet. Unlike most university students, Kim's job is pretty cool: she's a grim reaper, tasked with guiding souls into the afterlife.

Like most university students, Becka has a super intense crush. Unlike most university students, Becka's crush is on a beautiful gothic angel that frequents the underworld. Of course, she doesn't know that.

Unaware of the ghoulish drama she's about to step into, Becka finally gathers up the courage to ask Kim on a date! But when she falls into a ghostly portal and interrupts Kim at her job, she sets off a chain of events that will pit the two of them against angry cat-dads, vengeful zombies, and perhaps even the underworld itself. But if they work together, they just might make it... and maybe even get a smooch in the bargain.

Don't miss the sequel, Kim Reaper: Vampire Island !
Praise For Kim Reaper Vol. 1: Grim Beginnings…
"Sarah Graley makes awesome comics starring amazing, strong, queer women, including herself."
— Upworthy

"In Sarah Graley's delightful new series, Death is not only a beautiful goth undergrad, she's also the object of her classmate Becka's massive crush. Becka's infatuation, captured so wonderfully by Graley's expressive cartooning style, takes the two on a chaotic journey, ranging from university romantic travails to hellish underworld portals. Now's the perfect time to jump on board with this cute new series."
— Entertainment Weekly

"[...] Kim Reaper fits right in with books like Jonesy and Coady and the Creepies, as badass young women with supernatural powers figure things out as they go."
— Paste Magazine

"Stylish and sweet, Kim Reaper is sure to leave you in giggles!"
— Sarah Andersen, author of ADULTHOOD IS A MYTH

Pure adorableness. There's just no better way to describe this comic.
— BookRiot
Oni Press, 9781620104552, 112pp.
Publication Date: March 13, 2018
About the Author
Sarah Graley is a comic writer and artist based in the UK. She's been drawing Our Super Adventure and posting it online since 2012, and is also the author of the ever-spooky Kim Reaper, and the Rick and Morty: Lil' Poopy Superstar miniseries.