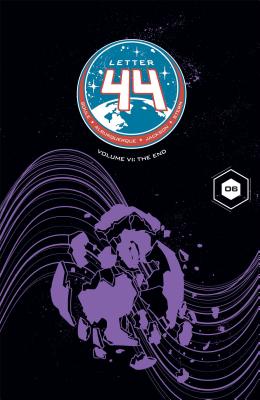 Letter 44 Vol. 6
The End
Paperback

* Individual store prices may vary.
Description
Earth will be destroyed. Stephen Blades, 45th president of the United States, knows this, and knows there will be no way to stop it. He knows the crew of the Clarke is most likely dead, and the the 666 that were supposed to be saved now have no chance. The most powerful man on the planet cannot protect it from its fate. But he will not give up. In this thrilling conclusion to the critically-acclaimed and award-winning series, the world will indeed end. But will it take humanity with it?
Oni Press, 9781620104682, 160pp.
Publication Date: March 13, 2018
About the Author
Charles Soule was born in the Midwest but often wishes he had been born in space. He lives in Brooklyn, and has written a wide variety of titles for a variety of publishers, including others' characters (Swamp Thing, Superman/Wonder Woman, Red Lanterns (DC); Thunderbolts, She-Hulk, Inhuman (Marvel)); and his own: 27 and Curse Words (Image); Strongman (SLG) and Strange Attractors (Archaia). When not writing—which is rare—he runs a law practice and works, writes and performs as a musician. One of his biggest regrets is never personally witnessing a Space Shuttle launch.

Alberto Jiménez Alburquerque is an artist born, raised and currently living in Madrid, Spain. He has put lines in French comic-books (BD's) for almost a decade now, working for Paquet Ed. and Soleil Ed. Some of his titles are: Fugitifs de l'Ombre (Paquet), Le Dieu des Cendres (Soleil), and Elle (Soleil). He has also drawn some short stories for the American comics Skullkickers (Image), Pathfinder's Goblins (Dynamite), and Robert E. Howard's Savage Sword and Mystery Girl (Dark Horse).

What is the most unfair thing you can think of? Got it in your head? Okay, forget that because there's a worse one: There's this guy who gets paid money for coloring comic books. Right. Dan Jackson has been gainfully employed to one degree or another with the coloring of comic books for the better part of 17 years. He's done other Great Big Projects with the fine folks at Oni Press, and he's done a bunch of covers and short projects with them as well. He's a pretty versatile guy. Even writes his own Bios. Mr. Jackson lives in the beautiful Pacific Northwest with his scorching hot wife (see? UN-FAIR!), and two hilarious kids.