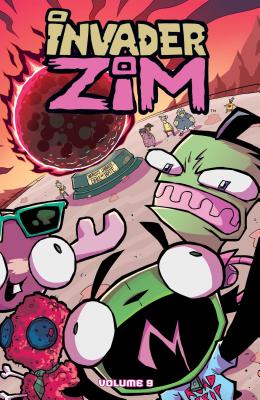 Invader ZIM Vol. 9 (Paperback)
Oni Press, 9781620106921, 128pp.
Publication Date: June 16, 2020
* Individual store prices may vary.
Description
The ninth volume in the bestselling Invader ZIM comic series based on the hit Nickelodeon TV show.

Future servants of ZIM! The newest collection of Invader ZIM comics includes tales of wonder, folly, and darkness. An exciting two-part story explores what happens when Dib and ZIM are forced to compete for the admiration of an alien race! While a very special one-shot reveals the secret origins of L'il Meat Man! Not enough meat for you? Join the Membranes as they ski Meat Mountain, the hottest—or, uh, coldest—resort just outside of town! And a one-shot from writer/artist Drew Rausch features a never-before-seen character: Dib's living skeleton! Collects issues #41-45.
About the Author
Sam Logan is best known as the creator of Sam and Fuzzy, a massive comedy adventure series that he has been writing and illustrating for over 15 years. He's also either partly or completely responsible for President Dog, Skull Panda, the Underground RPG, and a lot of unrelated problems. He lives in Vancouver, BC with his two dogs. (They're very good boys.)

Warren Wucinich is an illustrator, colorist, and part-time carny currently living in Dallas, TX. When not making comics he can usually be found watching old Twilight Zone episodes and eating large amounts of pie.

Fred C. Stresing is a colorist, artist, writer, and letterer for a variety of comics. You may recognize his work from Invader ZIM. He has been making comics his whole life, from the age of six. He has gotten much better since then. He currently resides in Savannah, Georgia with his wife and two cats. He doesn't know how the cats got there, they are not his.