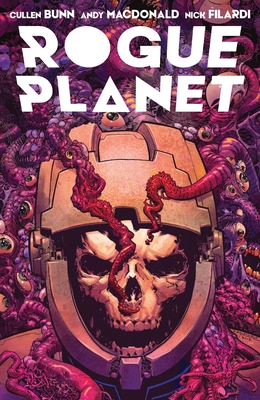 Rogue Planet
Paperback

* Individual store prices may vary.
Description
"Rogue Planet is an old-fashioned throwback to wild science fiction sagas of yesteryear, punctuated with unbridled storytelling and bold, imaginative artwork." — SyFy Wire

Rogue Planet is a twisting descent into cosmic horror from an all-star creative team including the writer of the runaway hit The Sixth Gun and the artist of Doctor Strange!

Salvage vessel Cortes tracks the Lonely Orphan, a planet with no star system to call its own. Somewhere on this hostile rock is a payload fit for a king. To attain it, though, the crew of the Cortes must brave razor rock, poisonous vapors, treacherous footing, and… the most mind-numbing horrors imaginable. Struggling to stay alive, they are beset at every turn by horrors from their own nightmares. Now, they have discovered that they are not alone on the planet, and the other inhabitants welcome them… as sacrifices to an elder god.

Stranded on a vicious, murderous, seemingly intelligent planet, the crew of the Cortes must reevaluate what it truly means to survive, and what they are willing to do in order to spare their own lives.
Praise For Rogue Planet…
"An intriguing series blending science fiction and horror for a result that'll leave you muttering 'wtf.'"
— Graphic Policy

"This outer-space chiller manages to deliever an intensively spiritual vibe."
— Publishers Weekly
Oni Press, 9781620107089, 136pp.
Publication Date: March 9, 2021
About the Author
CULLEN BUNN is the writer of comic books such THE SIXTH GUN, SHADOW ROADS, THE DAMNED, HELHEIM, and THE TOOTH for Oni Press. He has also written titles including HARROW COUNTY (Dark Horse), UNCANNY X-MEN, and DEADPOOL KILLS THE MARVEL UNIVERSE (Marvel). Cullen claims to have worked as an Alien Autopsy Specialist, Rodeo Clown, Pro Wrestling Manager, and Sasquatch Wrangler. He has fought for his life against mountain lions and performed on stage as the World's Youngest Hypnotist. Buy him a drink sometime, and he'll tell you all about it. His website is www.cullenbunn.com. Twitter: @cullenbunn

Andy Macdonald has drawn comics for pretty much every major publisher in comics, most recently cutting loose on Marvel's She-Hulk and Doctor Strange Annuals, Wolverine Infinity Watch and Loki! Also, he draws robots. Lots and lots of robots. You can follow him on twitter via @andymacdeez.

Nick Filardi grew up in New London, Connecticut listening to Small Town Hero and watching Batman: The Animated Series. After graduating from Savannah College of Art and Design in 2004, he colored for Zylonol Studios under Lee Loughridge in Savannah, GA while maintaining the pretense of working an "office" job. He is currently living in Gainesville, Florida with his three-legged dog, DeNiro. You can find his work in Powers, The Victories, and Atomic Robo. He can be found on Twitter at @nick_fil.