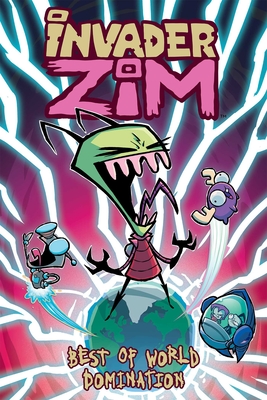 Invader ZIM Best of World Domination (Paperback)
Oni Press, 9781620107447, 104pp.
Publication Date: June 23, 2020
* Individual store prices may vary.
Description
WORLD DOMINATION. That's the goal for ZIM, the Irken invader stationed on Earth. But even an Irken as talented, beloved, and humble as ZIM occasionally has trouble getting his plans off the ground. It's those stupid humans. And especially the stupidest human of all, Dib. Explore four hysterical stories of ZIM's greatest plots to take over the world. Whether he's disguising himself as a hot new artiste, making double-crossing deals with pants aliens, or getting too distracted by TV to unleash his greatest and most terrifying creation, ZIM always has a plan. And it's definitely not his fault if it goes wrong.
About the Author
Jhonen Vasquez is a writer and artist who walks in many worlds, not unlike Blade, only without having to drink blood-serum to survive the curse that is also his greatest power (still talking about Blade here). He's worked in comics and animation and is the creator of Invader ZIM, a fact that haunts him to this day.

Eric Trueheart was one of the original writers on the Invader ZIM television series back when there was a thing called "television." Since then, he's made a living writing moderately-inappropriate things for people who make entertainment for children, including Dreamworks Animation, Cartoon Network, Disney TV, PBS, Hasbro and others. Upon reading this list, he now thinks he maybe should have become a dentist, and he hates teeth.

Warren Wucinich is an illustrator, colorist, and part-time carny currently living in Dallas, TX. When not making comics he can usually be found watching old Twilight Zone episodes and eating large amounts of pie.

Fred C. Stresing is a colorist, artist, writer, and letterer for a variety of comics. You may recognize his work from Invader ZIM. He has been making comics his whole life, from the age of six. He has gotten much better since then. He currently resides in Savannah, Georgia with his wife and 2 cats. He doesn't know how the cats got there, they are not his.