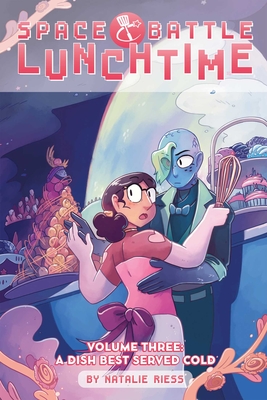 Space Battle Lunchtime Vol. 3 (Paperback)
Oni Press, 9781620107850, 128pp.
Publication Date: October 6, 2020
Other Editions of This Title:
Paperback (10/25/2016)
Paperback (7/4/2017)
* Individual store prices may vary.
Description
"Space Battle Lunchtime cooks up a delightful queer cosmic adventure." — AV Club

Peony may have come in second place on the mega popular cooking show Space Battle Lunchtime, but with a girlfriend and a royal catering gig for a space empress, she's on top of the world! Until she finds out her old rival, Melonhead, is catering the same event. But that's a picnic—she's dealt with Melonhead before. What she hasn't dealt with is her girlfriend Neptunia's mysterious past, which comes to a head when Nep's sister turns out to be the empress's bodyguard. And what Peony absolutely can't deal with is an attempt on the empress's life—especially when she's the prime suspect!

All this cutthroat culinary sabotage was supposed to be over when Space Battle Lunchtime ended... but in the competitive world of catering, there's always someone ready to stab you in the back.
About the Author
Natalie Riess is from a distant, unknown star. Her motives are unknown, but she seems to enjoy drawing food and making comics. She lives in Texas with her girlfriend and her girlfriend's cat.