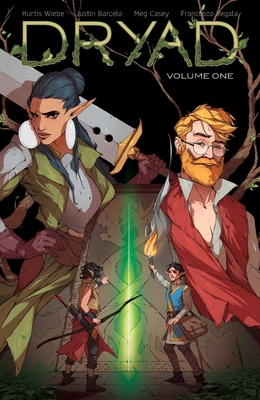 Dryad Vol. 1
Paperback

* Individual store prices may vary.
Description
Best-selling writer Kurtis Wiebe (Rat Queens) and newcomer artist Justin Osterling launch a new fantasy saga!

The Glass family has spent thirteen years hiding peacefully in the sleepy forest settlement of Frostbrook where Morgan and Yale planted roots and raised their twins, Griffon and Rana. But secrets never stay hidden, and the entire Glass family find themselves the target of an unearthly attack on Frostbrook.

Now on the run from Muse Corp., they must flee to the massive city of Silver's Bay to hide in plain sight. Rana and Griffon find themselves uprooted and answering for their parents' mistakes. But, they'll soon find that the past has a way of finding you, no matter where you run.
Oni Press, 9781620107904, 144pp.
Publication Date: January 19, 2021
About the Author
Kurtis Wiebe is a Stockholm, Sweden based author. Currently a Story Supervisor at Ubisoft Stockholm, he comes from a decade long career in comics and games. He is the co-creator of over ten original comic series and a content creator spanning podcasts, live streams and other digital media. His stories have garnered multiple industry awards including two coveted Shuster's for best writer.

Justin Barcelo is a bi Latinx comic artist and illustrator with a BFA from SCAD's Sequential Art program who uses storytelling to celebrate inclusivity in all forms. He is the co-creator and artist of DRYAD for Oni Press and character illustrator for actual play table top shows on Roll20 and Dungeons & Dragons. He currently resides in Savannah, GA with all its ghosts and his many cats.