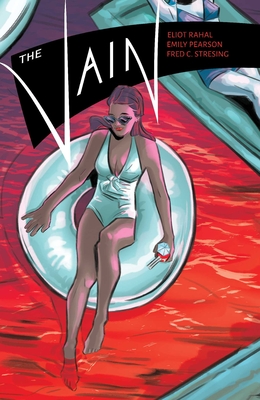 The Vain
Paperback

* Individual store prices may vary.
Description
Spanning nearly a century in time, The Vain chronicles the criminal lives of four sinful and stylish blood bank-robbing vampires.

Chicago, 1941. A blood bank is held up in a robbery, but no cash is taken—only blood. It's the latest in a string of similar robberies and as the United States prepares to enter World War II, FBI Agent Felix Franklin is certain it's part of a wider plot to weaken the United States by depriving it of its blood supply. But the truth is much more sinister.

The four robbers are vampires: immortal, physically powerful, and after decades of honing their skills, practically untraceable. But time goes on and the vampires—who call themselves The Vain—stay the same in a world that is rapidly changing around them. As security measures evolve, stealing blood is harder every day. And with every decade that passes, Agent Franklin gets closer to finding them. Capturing them. Ending them.

The Vain is a story about wild, eternal youth, reckless rebellion, endless love, and how in the end...maybe it is better to burn out than fade away.
Oni Press, 9781620108871, 144pp.
Publication Date: April 6, 2021
About the Author
Eliot Rahal is a comics/writer and creator best known for his work on HOT LUNCH SPECIAL, MIDNIGHT VISTA and CULT CLASSIC.

Emily Pearson is a comic book artist from California. She has previously worked for Black Mask Studios on THE WILDS, SNAP FLASH HUSTLE, as well as the upcoming Vault Comic's book, BONDING.

Fred C. Stresing is a colorist, artist, writer, and letterer for a variety of comics. You may recognize his work from Invader ZIM. He has been making comics his whole life, from the age of six. He has gotten much better since then. He currently resides in Savannah, Georgia with his wife and two cats. He doesn't know how the cats got there, they are not his.