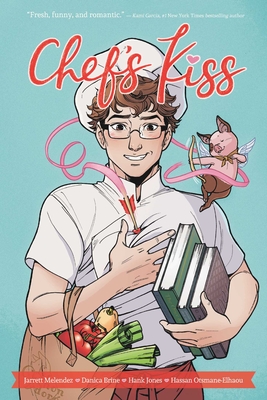 Chef's Kiss
Paperback

* Individual store prices may vary.
Description
"A perfect mix of romance and self-discovery." — Publishers Weekly

Watch things start to really heat up in the kitchen in this sweet, queer, new adult graphic novel!

Now that college is over, English graduate Ben Cook is on the job hunt looking for something…anything…related to his passion for reading and writing. But interview after interview, hiring committee after hiring committee, Ben soon learns getting the dream job won't be as easy as he thought. Proofreading? Journalism? Copywriting? Not enough experience. It turns out he doesn't even have enough experience to be a garbage collector! But when Ben stumbles upon a "Now Hiring—No Experience Necessary" sign outside a restaurant, he jumps at the chance to land his first job. Plus, he can keep looking for a writing job in the meantime. He's actually not so bad in the kitchen, but he will have to pass a series of cooking tests to prove he's got the culinary skills to stay on full-time. But it's only temporary…right?

When Ben begins developing a crush on Liam, one of the other super dreamy chefs at the restaurant, and when he starts ditching his old college friends and his old writing job plans, his career path starts to become much less clear.
Praise For Chef's Kiss…
"This enticing tale is sweet and satisfying."
— Publishers Weekly

"Chef's Kiss is a sweet, funny graphic novel that shows that sometimes the best things in life are unplanned."
— Foreword Reviews

"Fresh, funny, and romantic. This coming-of-age story about friendship, finding yourself, and following your dreams will melt your heart and teach you how to bake a mean pear tart!"
— Kami Garcia, #1 New York Times bestselling author of Beautiful Creatures & Teen Titans: Raven

"Chef's Kiss is, quite literally, the chef's kiss. It was deeply refreshing to read about a twenty something queer person tacklng relatable issues and getting their happy endings. This silly, sweet, and sincere new adult comic is everything I've been waiting for. I couldn't have loved it more!"
— Laynie Rose Rizer, bookseller at East City Bookshop

"This is definitely one that I'll be revisiting again and again, as a feel-good book and also to remind myself to prioritize what's important to me."
— Claire Joyce, bookseller at Book Passage

Chef's Kiss explores the messiness of young adulthood in the most delightful, heartening ways, and I want to follow Ben and his friends on a million more culinary adventures, eating up every word. 10/10 recommend.
— Robbie Couch, author of The Sky Blues

"Chef's Kiss is part rom-com, part sultry anime, and part instructional cookbook, there may not be another book out right now that ticks so many of my entertainment needs. Ben and Liam taught me what it means to ship."
— Sohla El-Waylly
Oni Press, 9781620109045, 160pp.
Publication Date: April 12, 2022
About the Author
Jarrett Melendez grew up on the mean, deer-infested streets of Bucksport, Maine. A longtime fan of food and cooking, Jarrett has spent a lot of his time in kitchens, oftentimes as a paid professional! Jarrett is a regular contributor to Bon Appetit and Food52, and is the author of The Comic Kitchen, a fully illustrated, comic-style cookbook. When not cooking and writing about food, Jarrett usually writes comic books (like this one, Chef's Kiss!) and has contributed to the Ringo-nominated All We Ever Wanted, Full Bleed, and Murder Hobo: Chaotic Neutral. He is currently writing a graphic memoir for Oni Press.

Jarrett lives in Somerville, MA, with his partner, Stuart, and their collection of Monokuro Boo plush pigs.

Danica Brine is walking sass in a leather jacket, forged in the icy lands of New Brunswick, Canada. From her waking hours to the moment she slumps over asleep at her desk, Danica can be found with a drawing tool in her hands. Her work has been featured on the covers of Wayward, Elephantmen, Exorsisters, and Doctor Who: The Thirteenth Doctor. She's also contributed artwork to All We Ever Wanted, featured in the New York Times, and The Comic Kitchen. When not working as a comic artist, she illustrates children's books for a Canadian French-language publisher.

Danica lives in Moncton, NB, Canada, with her husband, Nick, and their shiba inu, Taro.

Hank Jones is a colorist based in Atlanta, Georgia. He loves comics, movies, and really loves video games. He also enjoys a nice cup of coffee during a rainy day.

Hassan is a British-Algerian letterer who has worked on comics like Quantum & Woody, Red Sonja, First Knife, and more. He's also the editor of the Eisner-winning PanelxPanel magazine, and the voice behind Strip Panel Naked.