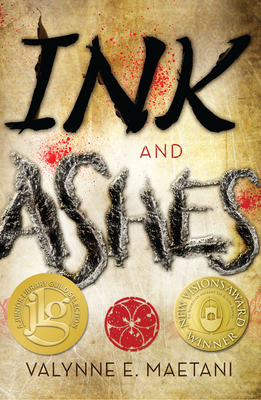 Ink and Ashes (Hardcover)
Tu Books, 9781620142110, 368pp.
Publication Date: June 1, 2015
* Individual store prices may vary.
Description
Claire Takata has never known much about her father, who passed away ten years ago. But on the anniversary of his death, she finds a letter from her deceased father to her stepfather. Before now, Claire never had a reason to believe they even knew each other. Struggling to understand why her parents kept this surprising history hidden, Claire combs through anything that might give her information about her father . . . until she discovers that he was a member of the yakuza, a Japanese organized crime syndicate. The discovery opens a door that should have been left closed. The race to outrun her father's legacy reveals secrets of his past that cast ominous shadows, threatening Claire, her friends and family, her newfound love, and ultimately her life. Winner of Tu Books' New Visions Award, Ink and Ashes is a fascinating debut novel packed with romance, intrigue, and heart-stopping action.
How does Maetani use Claire's letters to her father throughout the book to demonstrate how Claire has changed? How is Claire the narrator different from Claire the letter writer? What do you think accounts for this difference?generic viagra price canada
What reasons motivate Claire's mother to keep the information about her husband from her children? Is she selfish or selfless in keeping this information? What would you do if you were in her position?generic viagra price canada
What are some signs that Claire's father was a part of the yakuza? What made the yakuza life attractive to Claire's father? Do you think his family and economic circumstances excuse or justify his decision to join the yakuza?generic viagra price canada
Why might Claire's father, Henry Sato, decide to become a judge after leaving the yakuza? How might his experiences in the yakuza help him in his new career as a judge? Is it appropriate for him to be a judge? Do a judge and a member of the yakuza have similar visions or interpretations of justice?generic viagra price canada
How does shame influence both Chase and Arakaki to hurt Claire? What are the roots of their perceived dishonor, respectively? Why do they think hurting Claire will help them find closure? Do you think revenge can bring closure?generic viagra price canada
At several points throughout the novel, Claire struggles with whom to trust. When her stepfather asks if she trusts him, she wonders, "If I felt his love, did that also mean I trusted him?" Do you think that love and trust are always the same? Is it possible to love someone without trusting them, or without knowing the whole truth about them?generic viagra price canada
If Claire were to write one more letter to her father at the end of the book, what do you think she would say or ask him? Do you think she would forgive and accept him or has too much changed?generic viagra price canada
Maetani has said she wanted to create a book she never got to read: a contemporary title with a Japanese protagonist. In your opinion, does the book reinforce or shatter stereotypes of Japanese culture?generic viagra price canada
The book ends with most questions answered, but Maetani leaves the door open for a sequel. Would you want to read a sequel to Ink and Ashes? If so, what do you hope would happen in it?generic viagra price canada