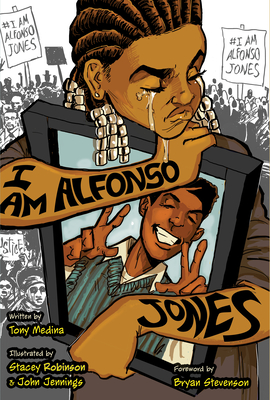 I Am Alfonso Jones
Paperback

* Individual store prices may vary.
Other Editions of This Title:
Prebound (10/15/2017)
Description
The Latinidad List of Best Books of 2017; Best Books for Teens; In the Margins Top Ten List; Starred Review; Top Ten Great Graphic Novels for Teens; Ten Best Graphic Novels of 2017; Choices; Skipping Stones Honor Award; Best Books for Kids; Black-Eyed Susan Book Award Nominee
The Hate U Give meets The Lovely Bones in this unflinching graphic novel about the afterlife of a young man killed by an off-duty police officer, co-illustrated by New York Times bestselling artist John Jennings.
Alfonso Jones can't wait to play the role of Hamlet in his school's hip-hop rendition of the classic Shakespearean play. He also wants to let his best friend, Danetta, know how he really feels about her. But as he is buying his first suit, an off-duty police officer mistakes a clothes hanger for a gun, and he shoots Alfonso.
When Alfonso wakes up in the afterlife, he's on a ghost train guided by well-known victims of police shootings, who teach him what he needs to know about this subterranean spiritual world. Meanwhile, Alfonso's family and friends struggle with their grief and seek justice for Alfonso in the streets. As they confront their new realities, both Alfonso and those he loves realize the work that lies ahead in the fight for justice.
In the first graphic novel for young readers to focus on police brutality and the Black Lives Matter movement, as in Hamlet, the dead shall speak-and the living yield even more surprises.
Foreword by Bryan Stevenson, Executive Director of the Equal Justice Initiative and author of Just Mercy
Tu Books, 9781620142639, 176pp.
Publication Date: October 10, 2017
1. Why does the author begin with the climax? What impact does this have on the story?
2. Alfonso's story is told in a nonlinear fashion. What insights does this offer into his life and character? Why might the author have chosen to tell Alfonso's story in this way?
3. How do the elements of class, gender, and race play out in Alfonso's life? How are these elements connected to the Black Lives Matter movement?
4. Why do you think the graphic novel format was used to tell this story? What do readers gain by experiencing the story visually as well as through words?
5. The book begins with a quotation from Hamlet, and Hamlet is woven into many parts of the story. Why do you think Hamlet was chosen? What parallels do you see between Hamlet's story and Alfonso's?
6. How does the author draw from recent events and history to build Alfonso's story? Do you think this story is a realistic portrayal of current events? Why or why not?
7. What message does this story send about the way the media sensationalizes information? How are Alfonso's family and friends impacted by the media coverage of his death?
8. Why was Alfonso's father put in jail, and how is Alfonso's life trajectory altered as a result? What about his mother's life?
9. After Alfonso is killed, he ends up on a train. Why is he there, and who is with him? What do you think needs to happen for Alfonso and his friends' train journey to end?
10. How is the police officer who killed Alfonso portrayed in the book? Do you think he feels remorse? Why or why not?
11. After Alfonso dies, Danetta starts organizing protests. What impact does this have on Danetta? How does receiving Alfonso's letter change her?
12. What is the significance of the title, I Am Alfonso Jones? How does the Black Lives Matter movement give Alfonso a voice?
13. Do you feel that the ending is hopeful? Why or why not? What role do we have as readers in this story?